Finding God in the Laundry
I have spent many hours in recent weeks dealing with my children's clothing—packing and unpacking clothes for summer camp, doing more laundry than usual (thanks to the extra-stinkyness of clothes arriving home from said summer camp), and buying some basics for the upcoming new school year.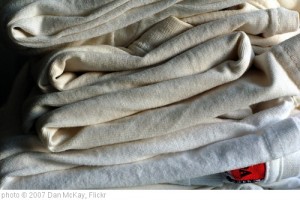 The truth is, I love this part of being a mom. While I might not love every minute of folding (and in all honesty, my husband is the primary folder in our house), doing laundry is, for me, a tangible sign that I am caring well for my kids. Much as other parents show their love through cooking for their children, I get a little jolt of maternal satisfaction by ensuring that my children always have adequate t-shirts, socks, and underwear, and at least one or two of their favorite clothing items, clean and available in their dresser drawers.
Likewise, I love shopping for clothes for my kids. I love thinking about what they have and need, considering their favorite colors and styles, and then showing them the perfect turquoise fleece jacket or Chuck Taylors with rainbow laces that I found on sale somewhere. Each child tastes are so different. One child's entire wardrobe is shades of blue, green, and yellow; another child won't wear anything with buttons (even decorative). I try hard to honor their preferences (within reason—some clothing trends I simply cannot abide). About 90 percent of the time, my instincts for what each child would like are good, and my children happily accept things that I buy for them.
As I have returned t-shirts that came home from camp damp and stained to my kids' dresser drawers, clean and folded, and as I have looked through my children's closets and drawers to see what they have and what they need for when the weather turns colder, I have thought of a verse from Matthew's Gospel:
Consider the lilies of the field, how they grow; they neither toil nor spin, yet I tell you, even Solomon in all his glory was not clothed like one of these.But if God so clothes the grass of the field, which is alive today and tomorrow is thrown into the oven, will he not much more clothe you—you of little faith?
I have wondered whether how I clothe my children (really, how I love them by clothing them) reflects how God clothes us, how God loves us. I clothe my children not merely out of duty, but with delight. I delight in providing them with what they need, and sometimes what they want. I delight in the confidence and joy with which they move through the world when they are wearing comfortable clothes that say something about who they are—one's love of green, another's love of sparkle and shine, another's refusal to conform to certain cultural expectations around clothing.
Does God delight in providing for us as I delight in providing for my children? It seems, from this Gospel passage, that God does delight in us, that God wants to go beyond just giving us what we need to also give us beauty and wonder (think of all those lilies, bursting with scent and color).
I must be careful, of course, not to use this passage to assume God's blessing on my 21st-century American preoccupation with the acquisition of things, including clothes for my children. When Matthew wrote this Gospel, after all, people didn't choose clothes from one of the hundred or so stores at the local mall to fulfill a personal sense of style. Their clothes were many fewer, handmade by family members or neighbors, and designed mostly to be practical for the climate rather than stylish. And this passage about God clothing us is smack dab in the middle of Jesus's rebuking his followers for worrying about the future, which I assume includes my worrying about what I (and my children) will wear a week or month from now.
And yet, I still believe that my efforts to clothe my children not just adequately but well—my desire for each of them to have enough but not too much, to have clothes that allow them to do what they love and be who they are—reflects in some small way God's desire for us to have enough but not too much, and to give us gifts that allow us to do what we love and be who we are.
We tend to think of "ministry" in very limited ways. Ministry is taking a mission trip to some hot place without air conditioning and with unsafe drinking water. Ministry is making sandwiches for people who are homeless. Ministry is singing Christmas carols for people in nursing homes. Ministry is what ordained people do.
What about those of us who spend most of our time making and cleaning up after meals, cleaning bathrooms and wiping kitchen counters, and making sure those in our family have clean clothes? Is that ministry?
I believe it is. I have come to believe that clothing and feeding and otherwise caring for my family not only reflects how God clothes and feeds and otherwise cares for us, but also teaches us more about how and why God does those things. I come to better understand how God loves me by loving my children, and I most often love them in the grit and grime and slog of daily life. Which is, of course, precisely where God loves me most of the time, not just when I am belting out a hymn on Sunday mornings or buying extra groceries for the town food pantry.
In God's first act in scripture, God created order—a beautiful, abundant place for God's people to inhabit—out of chaos. And isn't that what those of us whose primary work is caring for family and home do every day? We wash the same plates after one meal, knowing they will be dirtied again at the next one. We mop the floor, knowing that children and dogs racing in from the yard will muddy it again. We buy school clothes, knowing that a few months from now, they will be torn and stained and too small. We bring order out of chaos, knowing that the chaos will return and need to be contained once again. And again and again and again. We do for those we love as God does for us. And in doing so, we learn a little bit more, and help our children learn a little bit more, about how God loves us.
Ellen Painter Dollar is a professional writer and member of St. James's Episcopal Church. She blogs for St. James's every Monday, offering reflections on current events, family life, and parish life.