Clergy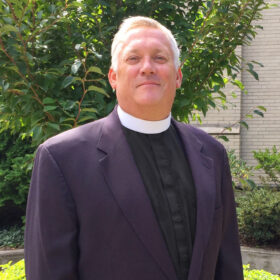 The Reverend Robert C. Hooper III
The Rev'd Robert C. Hooper III ("Bob," please) and his wife Priscilla married in 1988 and have three children and two Labrador retrievers, "Lilly" and "Theo." Bob received a B.S. in business/marketing from New England College in 1987 and a M.Div. from Virginia Theological Seminary in 1995. He was ordained to the priesthood in 1996 after seven years in the brokerage and banking industry in New York. He served parishes in both Northern Virginia and suburban Boston before coming to St. James's in 2002 to serve as rector.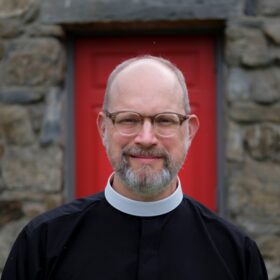 The Reverend Joseph J. Rose
Assistant Rector
860-521-9620
The Rev. Joseph J. Rose graduated from Yale with a Master of Divinity and a diploma in Anglican Studies. Before being called to St. James's, Joe and his wife Heidi served as co-executive directors at Trinity Church Wall Street's retreat center in West Cornwall, CT. At Trinity Retreat Center, his work included leading multigenerational retreats and camps, sharing in the preaching and liturgical life, and developing a creation care ministry that featured a "Good News Garden" farm and a sanctuary for rescued donkeys. He has also served at St. John's, New Haven, and received his Clinical Pastoral Education training at the VA Hospital in West Haven. He is a native of Washington State, graduated from Central Washington University with a degree in journalism, and studied abroad in Northern Ireland. Joe worked as a journalist for 23 years before discerning a call to the priesthood. Joe and Heidi reside in West Hartford and have two daughters.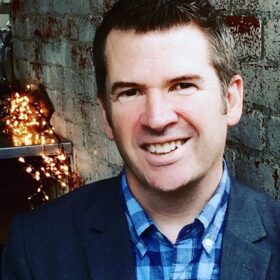 The Reverend Alan C. Murchie
Associate for Education & Music
860-521-9620
The Rev. Alan C. Murchie comes to St. James's from Trinity Episcopal Church, Nichols in Trumbull CT, where he served as rector from 2018-2022. He has also served parishes in Stonington, Collinsville, and Washington CT. Alan's musical career began early, at age 10, when he joined the St. Thomas Choir of Men and Boys in New York City. He has served as Director of Music at St. James' Church, Madison Avenue; Trinity, Southport; Christ's Church, Rye; The Episcopal Church at Yale; and Berkeley Divinity School at Yale. Alan currently serves as Lecturer in Religious Studies and Music History at Fairfield University, where he has taught for twelve years. He is a graduate of St. Paul's School in Concord NH, Yale College, and Yale Divinity School. Alan has just moved to the Elmwood neighborhood here in West Hartford, and is delighted to be joining the St. James's family.
Staff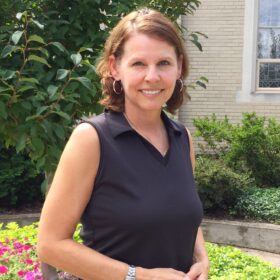 Mrs. Cheryl Batter
Parish Administrator
860.521.9620
Mrs. Cheryl Batter arrived at St. James's in September of 2003 after serving as the assistant to the administrator at Trinity Episcopal Church in Hartford. Originally from Aroostook County in Northern Maine, Cheryl first came to Connecticut to study music at the Hartt School. She lives in Meriden with her husband Jeff, a native of Connecticut, and loves spending time with her step-daughter, Sara, and two grandchildren Autumn and Dahlia. Jeff serves as the organist and director of music and liturgy at St. Paul Roman Catholic Church in Berlin where Cheryl is a cantor and religion teacher.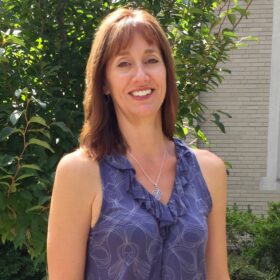 Mrs. Heidi Cotter
Financial Secretary
860.521.9620
Heidi Cotter is originally from Illinois where she studied at Marquette University, graduating with an accounting degree. She also played basketball for the Marquette women's basketball team. She came to St. James's several years ago and has been a valuable asset in keeping the financial records of the parish in good order. Heidi resides in West Hartford with her husband John. They have two grown children.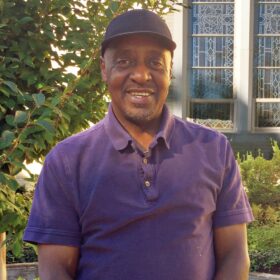 Mr. Leon Fraser
Mr. Leon Fraser moved to West Hartford over one decade ago and is a trained teacher and sports coach by profession and journeyman by choice. He and his wife Marylin raised four children, including their daughter Nia who was a valued member of the St. James's choir for many years. Marylin is an active member of the congregation. He has served as sexton since 2016, and loves a good book, especially espionage thrillers.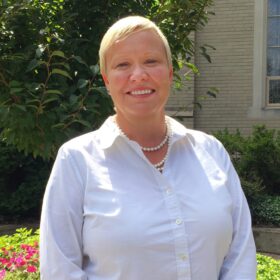 Mrs. Priscilla Hooper
Director of Religious Education
860.521.9620
Mrs. Priscilla Hooper moved to West Hartford in 2002 when her husband, Bob, was named rector of St. James's. She has worked as the Director of Religious Education (now called Director of Family Ministries) since 2003. Priscilla is the mother of three grown children—Robby, Henry and Maddy and mother of two four legged children, a yellow lab named Lilly, and a chocolate lab, Theo. In addition to her work at St. James's, she is a library paraprofessional at Morley School part-time. She has a bachelor's degree in journalism from the University of Texas at Austin and has dedicated her life to children and families.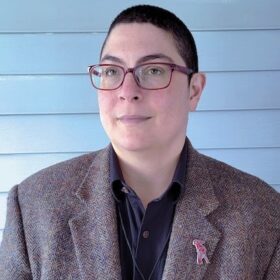 Dr. Marta S. Rivera Monclova
Marta S. Rivera Monclova is shepherding an emerging monastic community in Hartford, CT, which joins a dedicated communal life with an outward ministry based on each member's gifts. Marta's own ministry at Seabury Life Community centers on elders who are marginalized due to age and disability, supporting their ongoing spiritual formation and growth in the community. She is a postulant for Holy Orders in the Episcopal Church of Connecticut. Marta holds an M.Div. from Berkeley Divinity School at Yale University and a Ph.D. in English Literature from Tufts University. In prior times, Marta taught English at several universities, and worked in the tech industry.
Associate Clergy