In this series, we get to know members of St. James's a little better by asking them about how they came to be part of the community and how their faith informs their daily life and work.
Sam Paul is on the board of directors of A Hand Up, a 501(c)(3) not for profit organization that helps people who are transitioning to independent living. A Hand Up picks up donated furniture and household goods to help people establish their new homes. It is entirely staffed by volunteers and was started in 2005 by former parishioner, Rosemary Cleaves, and parishioners Robin Gilmartin and Diane Mack.
Tell me a little about yourself.
I am Sam Paul, married for 19 years to my wife, Michele, father of Nicholas, 16, and Lucy, 14. I grew up in Granby and was a member of Trinity Episcopal Church in Tarriffville. When Michele and I were newly married, we were looking for a church to raise our children—we came to St. James's between Rectors John Mitman and Bob Hooper.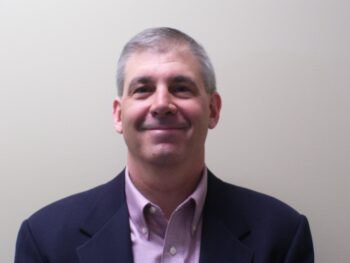 How did you get involved with A Hand Up?
I think one of the appeals of St. James's was the commitment to outreach. I hadn't been there long when I met Rosemary Cleaves [founder of A Hand Up] and she would just suck you in to one of the 30 or so programs she ran by herself. First, I was a driver, then I was asked to be on the board in 2009 or 2010. I have been doing deliveries ever since.
Why were you attracted to A Hand Up?
I think that the most effective outreach programs are the most simple. Most people that I know in the area, West Hartford, Farmington, Avon, Granby are happy to donate. They just need a channel. As much satisfaction as I get out of deliveries, it also feels good to help people feel good about helping people.

Also, when I was growing up in Granby, recycling was a new concept. They had these bins at the transfer station for cans, bottles, and newspapers. I would volunteer there and help people unload their cars; we tried to make it really easy. There was an appeal for me to keep stuff out of the landfills.
You were nominated for an award at UPS for your volunteer work at A Hand Up. Tell me about it.
The award was from the Casey Foundation. Every year, within all of UPS, a UPS employee gets this award. Because I was nominated A Hand Up got a $1000 grant. Plus I got my mug on the website. I don't think anyone else in my office can say that.
How does working at A Hand Up affect you?
It has been gratifying knowing we have helped so many. We made 161 deliveries in 2015 and we had 236 donor events. I enjoy helping people, and this work give me an opportunity to practice living out my favorite passage from the Bible, James 2:14-17, "What good is it, my brothers and sisters, if you say you have faith but do not have works? Can faith save you? If a brother or sister is naked and lacks daily food, and one of you says to them, 'Go in peace; keep warm and eat your fill,' and yet you do not supply their bodily needs what is the good of that? So faith by itself, if it has no works, is dead." That [reading] is something I think of every day.