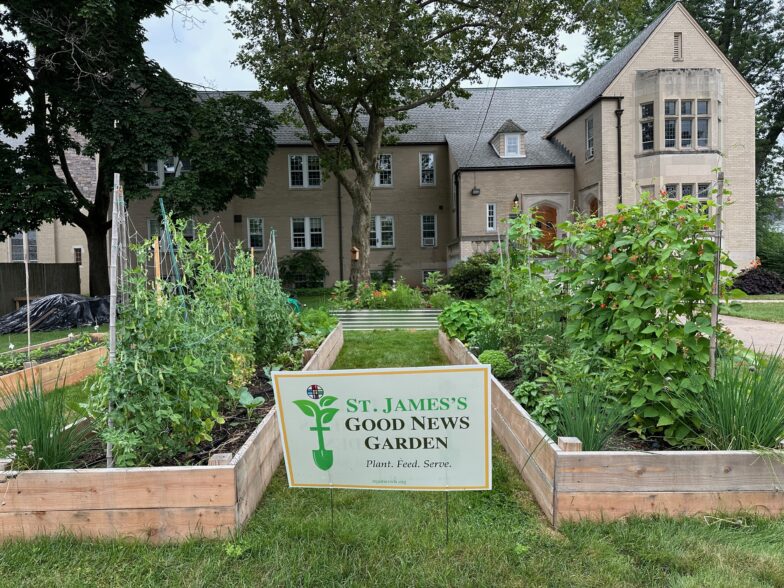 St. James's works to reconnect people of all ages to God's creation in ways that make a difference to the earth and the human family. Through education, prayer and outreach, our ministries work to inspire wonder and action in ways that intentionally link our community spiritually with the light, sky, land, stars, wind, and water that run through God's story. Join us throughout the year for our garden-blessing service, storytelling, harvesting, the blessing of the animals, and other activities that point to Jesus' spirit and his way of love.
Our Good News Garden allows us to live our Christian values at the intersection of Creation Care and social justice by planting more, praying more and proclaiming more. The garden on the east side of the church building started 12 years ago with an Eagle Scout program, replacing much of our resource-hungry lawn near the Memorial Garden with four raised growing beds and irrigation. Today, the Community Garden provides fresh vegetables to families through our feeding partnership with Hartford Catholic Worker. Parishioners regularly plant, maintain and harvest crops in the garden beds. From April through October, the group meets every Wednesday morning during the planting and harvesting months. Volunteers take the vegetables harvested to the Catholic Worker's "Green House" in North Hartford, where it is distributed to anyone need. The garden donates about 800 pounds of produce per year.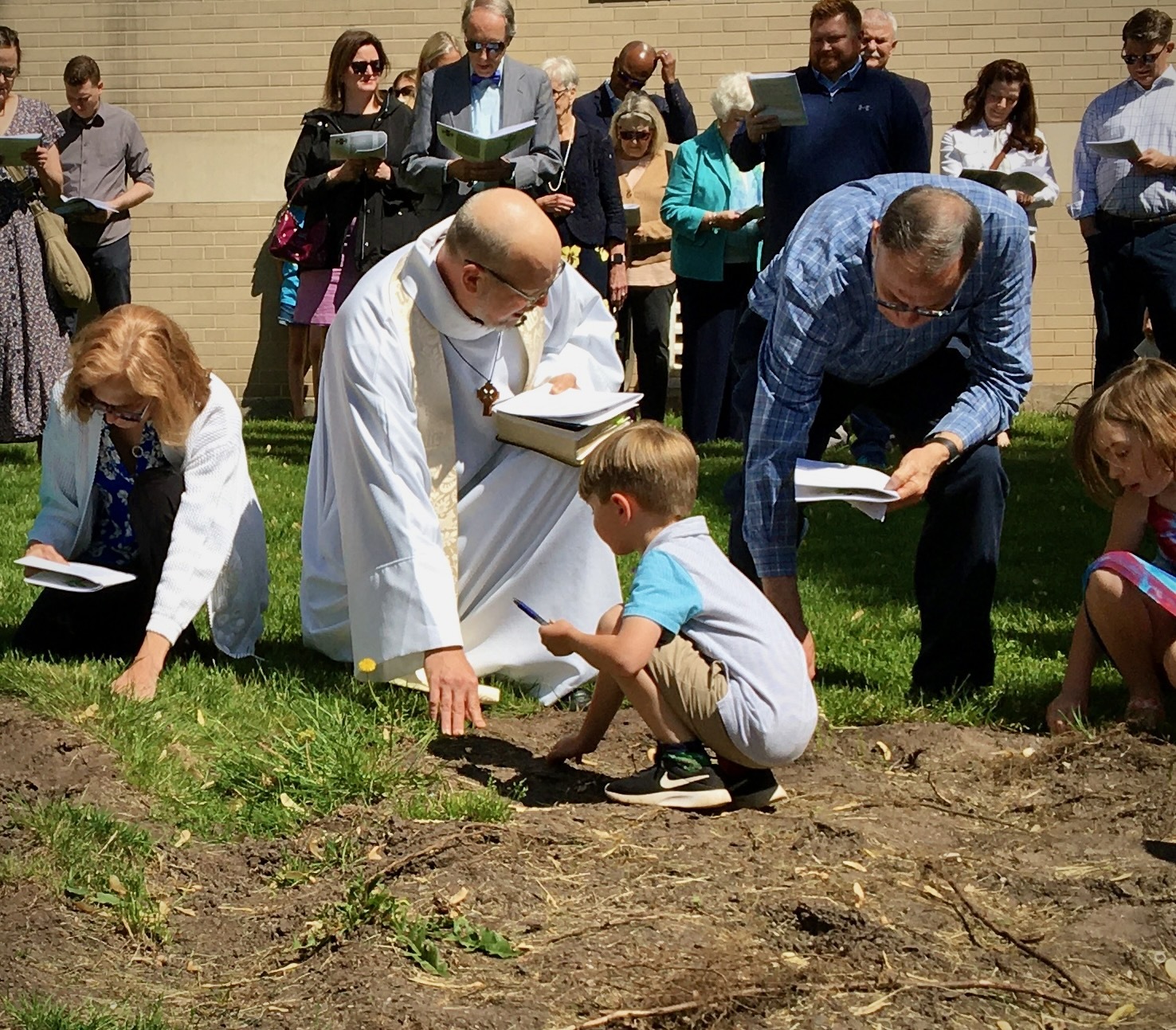 We are currently in the process of expanding the Good News Garden with a solar-powered, self-watering greenhouse and two new planting beds outdoors. In addition to allowing us to provide more fresh vegetables to marginalized and vulnerable peoples through our feeding partnerships, the greenhouse project will allow the parish to expand its Creation Care ministries in several practical but life-giving ways. In addition to replacing even more of the church's resource-hungry lawn, the expanding garden and greenhouse present opportunities for education, liturgy, centering prayer, and promoting justice within the framework of the global climate emergency.
If you are interested in volunteering for the Good News Garden ministry, contact the Rev. Joseph J. Rose at revjoerose@gmail.com.
Join us on May 5, 2024, for our annual Rogation Sunday service and the blessing of the gardens.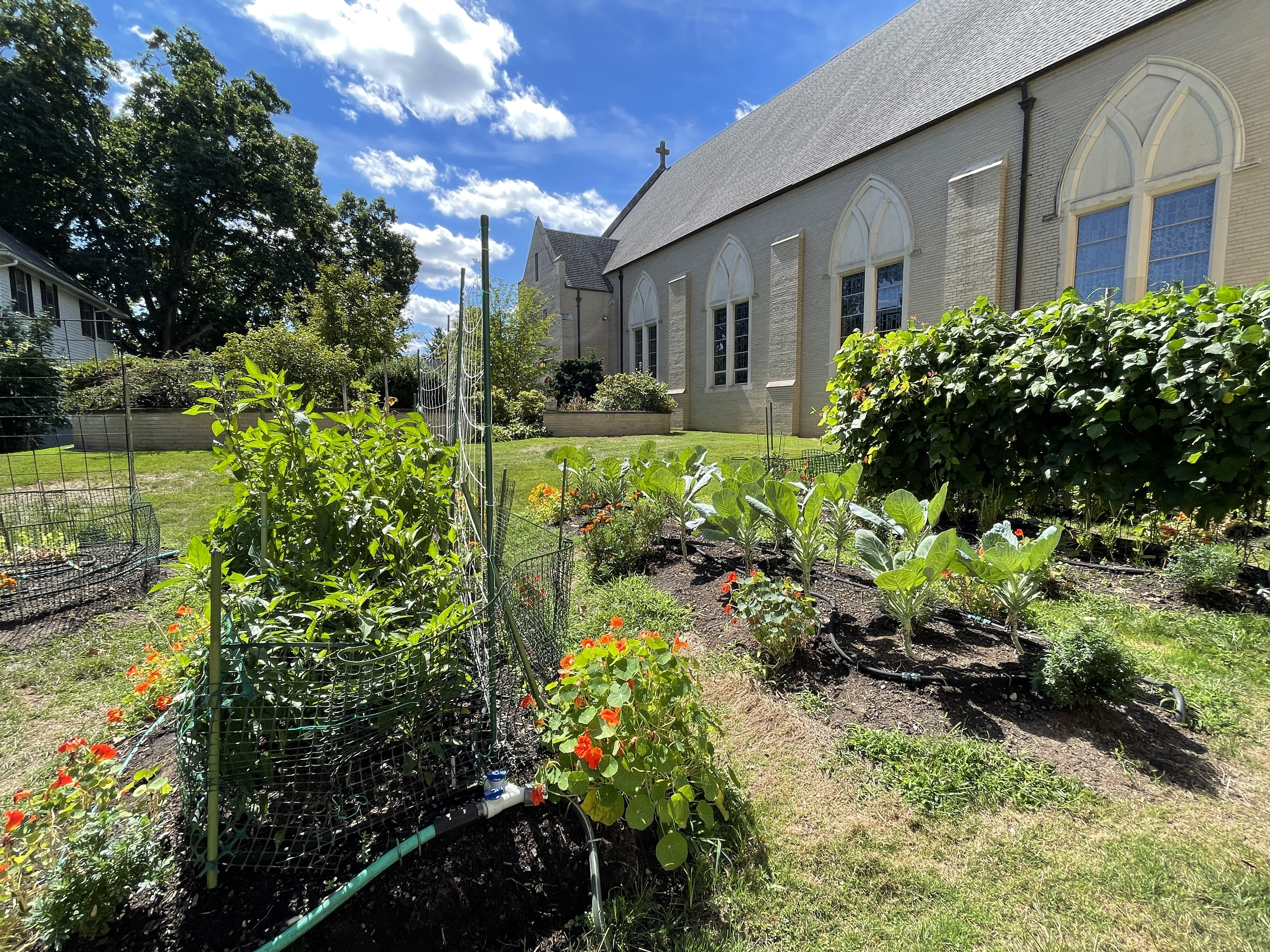 Learn more about the Episcopal Church's Good News Gardens network.