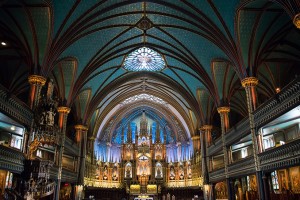 Recently a video emerged of Victoria Osteen, co-pastor with her husband Joel of Lakewood Church in Houston, Texas. In the clip, with great enthusiasm, she says,
"I just want to encourage everyone of us to realize when we obey God, we're not doing it for God—I mean, that's one way to look at it; we're doing it for ourself because God takes pleasure when we're happy. That's the thing that gives him the greatest joy this morning. So I want you to know this morning: just do good for your own self. Do good cause God wants you to be happy. When you come to church, when you worship him, you're not doin' it for God really, you're doing it for yourself, because that's what makes God happy. Amen?"
Victoria's statement on the purpose of liturgy wasn't alone though, as a clip of Bill Cosby followed her, in which he gets up out of his chair and says,
"That's the dumbest thing I've ever heard in my life!"
Keeping in mind that I don't believe that following Jesus requires me to always be nice, I'll second Cosby's declaration. In that instance, Victoria made no sense whatsoever, and though her explanation is mostly incoherent, it's also—in my not-so-humble opinion—completely missing the point.
But what is the purpose of liturgy in the life of an Episcopalian like me or other followers of Jesus and worshippers of God?
This is, of course, a loaded question and the subject of entire libraries. By endeavoring to write on this subject, I've no doubt bitten off more than I can chew. I'll share the burden with a few influential figures in my liturgical studies as you and I nick the very surface of liturgy's purpose.
♦
The pervasive "What's in it for me?" has become a way of life, turning the church into an entity—something to be consumed for one hour every week, or else a social club from which some of us find the means to ease our privileged guilt.
The comment that, "I wasn't feeling fed at that church service," sounds (to me) like the words of a patron at the Olive Garden. Sure, it's important to find a worshipping community in which we feel welcomed and engaged and "fed"—and a church that doesn't do that is most likely doing it wrong—but liturgy is not merely about consoling our troubled consciences, and I suspect it's more about feeding than being fed. And yet that doesn't quite capture it.
♦
Theologian Marva Dawn calls worship, "direct expression to God of praise and thanksgiving and intercession and from God through the Scriptures and various servants of the Word and through the Lord's Supper."[1] If she's right, and I suspect she is, worship and our liturgy is about relationship. More than that, it's about balancing a relationship between creator and created—keeping in perspective how wonderful a gift life truly is.
♦
Teacher and poet Katherine Staudt recalls an interviewed churchgoer who likened the liturgical expression of the church to putting "skin on God." Staudt writes, "[this statement], expresses what I hope is true: that it is possible for human beings to draw near to be touched by, a mystery that is beyond our full comprehension and in our gathering to lend a human face, a story to that Mystery that we experience as also reaching out to us."
Again, liturgy is about relationship. It is about an experience of the living God Who is mysterious and yet present, beyond comprehension yet touchable, and difficult to grasp yet reaching out for us.
♦
When we gather for worship, we are what Aidan Kavanagh calls "a dynamic coordination of orders" and not merely a group of individuals. We are "catechumens, servers, penitents, deacons, the baptized faithful, presbyters, and bishops." Or, to put that into the language of St. James's, we are baptized and unbaptized Christians, servers, and priests, and in the liturgy, we contribute to God's mission of reconciliation.
Baptism is an ordination. Remember that.
Kavanagh adds that, "the liturgical assembly is the world being renovated according to the divine pleasure—not as patient being passively worked upon but as active agent faithfully cooperating in its own rehabilitation."[2] We're not merely asking to be fed; we are feeding and learning how to wait tables to which all are welcomed.
Our liturgical worship is about relationship between God and us but also between us in our various ordained roles. It is about mission and ministry, and in this way we attempt to—through our liturgy—modify our culture as well as our participation within.
We participate in the unfolding of God's Kingdom when we engage in liturgical worship.
♦
"A story is told of a young man, an unsavory type, who falls in love with a saintly young woman. Knowing that she will not so much as look in his direction, he slips into the vault of the town cathedral, dons one of the masks of the saints used in the annual town festival, takes on the demeanor and behavior of a saint, and begins to woo her. Surely enough, over time, she begins to fall in love with him. As the relationship flowers and deepens, the young man's scoundrel friends finally become envious of his success with the saintly young woman and, one day, out of sheer spite, challenge him in the center of the town square, in the presence of his beloved, to take off the mask and reveal his true identity. Dejected, knowing that all is lost, he slowly removes the mask…only to reveal that his face has become the face of the saint."[3]
James Farwell, a liturgics professor at Virginia Theological Seminary shares this story at the beginning of his book The Liturgy Explained. The tale serves as a wonderful metaphor for the function of liturgy in the best possible case.
In liturgies, such as the ones St. James's enacts on Sundays, we don masks of a certain kind—engaging in ancient rituals, saying scripted prayers, singing certain poetic songs, and reflecting on a collection of sacred books that we will never fully understand. We listen to proclamations of love, we lament and pray for a broken world, we make peace with one another, and we energize ourselves to love one another as we join each other at one table.
Like the young man in the fable, we begin by seeking the one we love or try to love and do so by behaving in ways that are congruent with the nature of the One we love. If we're seeking God in that, we'll ideally become the saintly people we aspire to be.
♦
There you have it: an incomplete picture of a continuing practice that leads us deeper into God's mission of reconciliation. Our liturgical worship is not the only way in which we engage God's mission, and Farwell insists it is neither a mere rehearsal. No, worship is the real deal, and if that's not encouragement to have your Sundays planned out indefinitely, I don't know what is…
…we shall talk about the Daily Office some other time.
The Rev'd Curtis Farr is the assistant rector of St. James's Episcopal Church in West Hartford, Connecticut. He offers reflections on the lectionary readings for the upcoming Sunday. He keeps a blog at FatherFarr.com.
♦
[1] Dawn, Marva. How Shall We Worship? (Carol Stream: Tyndale, 2003), 41.
[2] Kavanagh, Aidan, Elements of Rite (Collegeville: Pueblo, 1982), 43-44.
[3] Farwell, James. The Liturgy Explained (New York: Morehouse, 2013), 1.