What is Your "Deep Gladness"?
This past weekend, St. James's parish hall resonated with the voices of young actors and singers presenting the Poppins Children's Theater production of a short musical, "The Castaways." My son Benjamin played one of the castaways—a group of kids living on the streets of New York City at the turn of the century who are eventually adopted by midwestern families. Several other kids from the parish were also part of this talented company. We were so proud of Benjamin's performance, marked by his engaging smile and bright (in tune!) singing voice. But we were even more captivated by the ease and joy that he exhibited on stage. He clearly felt at home up there. The anxiety that he contends with daily, particularly at school, was nowhere to be seen.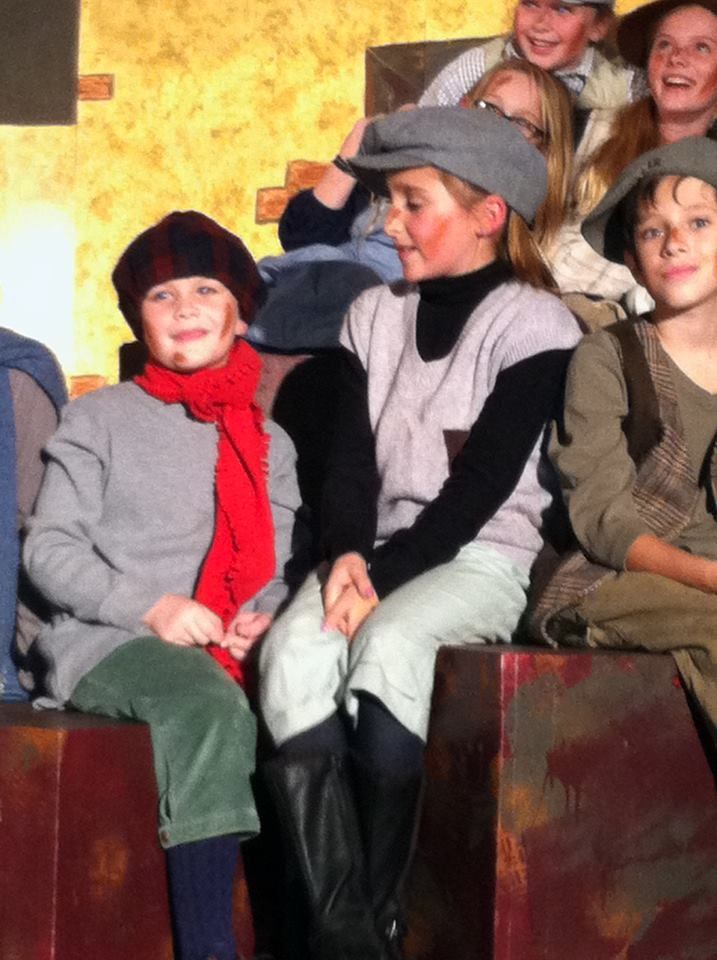 The writer and theologian Frederick Buechner says that, "The place God calls you to is where your deep gladness and the world's deep hunger meet." Performing on stage is a source of deep gladness for Benjamin. In a world hungry for beauty and song, where art can heal and inspire, God seems to be calling Benjamin to music and theater. Whether he will act and sing only in his student days, as a lifelong amateur, or as a professional doesn't really matter. What matters is that God has given Benjamin not just some talent, but a joy in performing that both transforms his own outlook and touches other people.
The Buechner quote about your deep gladness and the world's deep hunger was popular at the small coffee-house church where Daniel and I met in Washington, D.C. We talked a lot about "call" or "vocation" there, and a common thread of our conversations was that our calling is rooted in our heart's desire, which is another way of saying "deep gladness." The point was that God doesn't call us to do stuff we hate or that we're no good at. That doesn't meet that responding to God's call is always easy and fun. But it does mean that, in figuring out what God is calling us to do, we should pay attention to what we love to do, what energizes us, what inspires us, and what we are good at.
This was a message I struggled with at the time. The church we attended was populated with radical types who did stuff like raise families in D.C.'s toughest neighborhoods even though they could afford to live elsewhere, or give up comfortable suburban lives to live in the local L'Arche group home with adults who had serious intellectual disabilities. While I worked for an Episcopal social service agency, providing job counseling to homeless men, I knew such work was not my heart's desire. What was? Definitely writing. Also, having kids. I did not share the latter insight often with this particular church crowd, because I was embarrassed. Yes, God is calling me to wipe pureed plums off some kid's chin while the rest of you are saving the world. But the sense that God was calling me to parenthood, as well as to writing, didn't let go.
And here I am, 20 years later, with three children and a writing career. There are days when my "deep gladness" goes AWOL, obscured by whiny kids, bathrooms in need of cleaning, trollish blog commenters, and writer's block that becomes more entrenched the closer I get to a deadline. There are times when I am convinced my work as a mom and as a writer is meeting the world's "deep hunger" about as effectively as the offer of a carrot stick quells my children's cries of "I'm starving!" when I'm struggling to get a late dinner on the table. There are also times when I look at Jesus's life compared with mine and decide that I can't possibly be doing this Christian thing right.
But God calls us to follow Jesus, not to be him. (Even without the whole "Son of God" thing, Jesus was, after all, a healthy, unmarried, childless, young Palestinian man who lived 2,000 years ago. I am none of those things.) And in equipping us to follow Jesus, God gives us a variety of gifts. It makes as much sense for me to be an accountant or foreign aid worker or preschool teacher as it makes for a foot to be a hand, or an eye to be an ear (to paraphrase 1 Corinthians 12). In God's economy, it makes sense for God to equip us not merely with particular talents and skills, but also with an abiding love for using those talents in our daily lives and work. Without such love, or "deep gladness" as an essential ingredient in our vocation, we would give up and go in search of a different vocation as soon as things get hard.
We tend to think of words like "calling" and "vocation" as relevant only to those who are clearly doing church-y, Jesus-y work, like becoming missionaries or priests. But God calls all of us. We all have a vocation. What might yours be? Where do your deep gladness and the world's deep hunger meet?
Ellen Painter Dollar is a professional writer and member of St. James's Episcopal Church. She blogs for St. James's every Monday, offering reflections on current events, family life, and parish life.