Chuck Willson - One Person at a Time

In this series, we get to know members of St. James's a little better by asking them about their lives, how they came to be part of the community, and how their faith informs their daily life and work.
As we sit down to dinner in their home just a few blocks from the church, Chuck poses a question to his family.
"One of my clients is charged and convicted for dealing drugs, and he's either going to get a ten-year sentence or a twelve-year sentence. What reasons might there be for him to get the shorter sentence?"
Nora (13) asks, "What drugs did he sell?"
"Crack cocaine," Chuck replies.
"Did he hurt anybody?" Charlotte (11) asks.
"No, he's not violent."
"Oh, well there's a good reason for only ten years," Chuck's wife, Meredith, says, the girls nodding vigorously in agreement.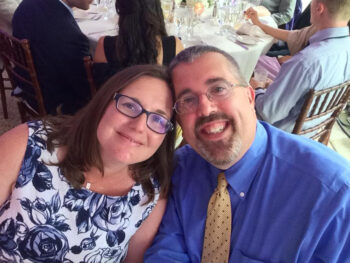 This is not unusual dinner conversation for the Willsons. Chuck serves as an assistant federal public defender in the Public Defenders Office for the District of Connecticut. When Chuck is late to dinner it is because "Daddy is in prison today," meeting with clients who in Chuck's words are, "viewed by society-at-large as something less than second-class citizens."
From an early age, criminal law fascinated Chuck. When he was a teenager, his sister babysat for a state prosecutor. She would speak openly about the cases she worked, including such gruesome cases as one who abused his spouse with a golf club. While the details were shocking, Chuck found it incredible that such a nice woman dealt with such awful situations and had devoted her life to helping.
He took law classes in high school and college, and in his first mock trial he was given the role of a defense lawyer for a client accused of driving while under the influence of alcohol. Though the prosecutor had an impressive amount of mock trial experience, Chuck won the case, finding it thrilling to be "difficult and disruptive in a good, approved, and structured way."
By the end of his time as an undergraduate at Saint Joseph's University, Chuck knew he wanted to enter law school, but hoping to see what would happen with Meredith (whom he had recently met) and feeling that his life was on track, he decided to spend a year earning poverty wages and managing volunteers at the Greater Boston Food Bank. In this position, his volunteers were often people facing criminal charges, and Chuck developed a more nuanced understanding of the difficult circumstances that brought them to their current situations.
Chuck enrolled in and graduated from Boston College with a law degree and then clerked for a judge in New Hampshire. He soon landed an associate position at a wildly successful firm in Boston, which gave him opportunities to work on significant cases, but these cases left something to be desired. The first big case was between two corporations, in which his firm's client settled after acquiring the other company at a massive discount.
"I remember finishing the case and wondering, 'What is the point?'" Chuck says.
He knew that he wanted to be involved in helping people to change their lives, and a lot of his firm's big clients were not helping him fulfill that desire. Luckily, the firm's successes offered Chuck the chance to work many pro bono cases, one of which involved an inmate convicted on two drug-related charges.
"Meredith actually watched me in court on this one," Chuck says as Meredith returns to the dining room with brownies for dessert.
"At first, he seemed nervous," she says of the first court case, "but when they asked the first question, he leaned over into the podium, crossed one leg behind the other, and started a conversation."
"That's probably my 'trick,' if you will," Chuck adds. "I learned early on that as a lawyer you want to emphasize your personality. No big shows, just a conversation."
"Every time I've ever seen Chuck in court," Meredith says, "he immediately gets into a zone. He sounds calm, but you can tell that he is fighting for his client in a skilled, articulate way."
Chuck's method seems to work; he won the case, despite that those kinds of cases lose 95% of the time. His client had been convicted on two counts, and Chuck got one thrown out and the other reversed, enabling his client to be released from prison several years early.
While the legal system fascinates him, Chuck is driven by a deeper desire to help those without much hope. He finds that the judges he works with are looking for the same thing—hope in seemingly hopeless situations. And hope, he says, "hope is one of the best things the church can offer the world."
Belief in this hope and in a faith community's ability to lift up individuals to turn faith into action, led Chuck and Meredith to find a church community in which they could raise Nora and Charlotte. They chose St. James's because when Meredith first walked into the chapel for the 8 a.m. service, she encountered the former assistant rector, Joan Phelps. Having been raised Roman Catholic, seeing a woman at the altar surprised and delighted her—it didn't hurt that she was warmly welcomed by many members in the congregation.
The Willsons quickly became regulars, and the girls were baptized. Chuck, on the other hand, had yet to be baptized. In the church of his childhood, you would not be ready for baptism until you could make a public statement of faith and "welcome Jesus into your heart."
"So you decided not to let Jesus into your heart," I ask. Chuck giggles as he describes his baptism.
"At some point, I called Bob [the rector] and said, 'I want to get baptized. Can I come by on a Tuesday, or something, and get it done?'
"No, no, no…we've gotta have a thing," Bob insisted, so they met at McLadden's to discuss baptizing Chuck at the 8 a.m. service.
"I will remember my baptism until I die. During the service, Bob asked Nora and Charlotte to dip their hands into the font to help him bless the water. I will never forget looking down, into their eyes, at that moment just before Bob baptized me."
In that moment, Chuck recognized in his daughters' eyes the same thing he searches out in those whom he defends: hope.
"Many of my clients have never been recognized as having hope. They come from some dark backgrounds. I search for hope in these peoples' lives, as do most of the people I work with. One good part about our system is that it looks for hope in every situation, and it is my job to bring that hope forward, one person at a time."
Chuck has served, and Meredith currently serves, on the vestry at St. James's. Nora and Charlotte are active members of the choir and youth group. When not at church you can often find the Willsons walking their standard poodle, Bonnie…that is, when Daddy's not out searching for hope.