Why is Youth Ministry So Important?
Long before my ordination to the priesthood in the Episcopal Church (nearly 20 years ago now) I was involved in Youth Ministry in the Church. As a kid I was a regular Sunday school attendee, as a teen I was very involved in Youth Group and Camp and as an adult I was a volunteer youth leader at my local parish where Priscilla, my wife, was the staff Youth Director. Since my ordination, both as an assistant rector and rector, I have been deeply involved in the youth ministries of the parishes I have served. I have run youth groups, been an interim Camp Director, I have coordinated volunteers to work with the youth and my favorite activity is organizing and running mission trips for teens to new and exciting places.
The Church's mission and ministry with its youth not only holds a special place in my work day, but in my heart and understanding of God.
So the question is, if teenagers are one of the smallest demographics in your average Episcopal church why do we spend so much time, energy and resources on this aspect of community life?
For most youth in parishes like ours and towns like West Hartford, the middle school and high school experience can be very stressful and self-absorbing. School life is full of stress to succeed academically, athletically and socially. The constant concerns and focus on college preparation and admissions and number of "likes" on Instagram, Twitter and Vine seem to consume the time, energy and spirit of our teens.
Home life is not much easier, if not harder all together. So many parents are constantly obsessing on grades and the latest athletic, musical or theatrical performance, as if their own personal and social worth rests on their children's personal and public success.
Now don't get me wrong, academic success and expanding one's life through sports, music and the arts, is very important. The problem is how we do it.
We seem to forget that teenagers are still kids struggling to discover what it means to be independent, self-reliant and young adults. IT IS NOT EASY TO BE A TEENAGER IN 2013.
This is why churches should do youth ministry. For starters, when done well, it provides a place for teens to gather and explore with others what it means to be a part of something bigger than themselves and a place to put all that creative energy to work and fun. Youth group frequently brings together kids who would not necessarily, because of the social confines of their lives, even know each other, nevertheless, get to know each other well. There is nothing like a new perspective to enlighten and enliven our lives.
While teen life, like the lives of so many adults, is full of judgment and competition, church life should never be about these things. We are all equal in God's eyes-a lesson so many need to hear and learn. While the adults in most teens' lives are there to support and help, teachers and parents by the very nature of their roles frequently are the largest contributors to the stress that these young people experience. Once again, church life should never be about this. Youth ministry provides the opportunity for the extended community from the youngest to the oldest, to work together, support each other, and help others.
With opportunities such as mission trips, the youth of the parish come to know the world as a bigger place than the one they inha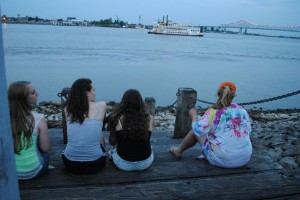 bit - a place where they can make a difference. This is a lesson that can be more important and powerful than any one lesson taught in a classroom.
Most importantly, youth ministry, when done well, is a place of intentionality. A place where God is invited in to our lives, our worries, our loves, our sorrows and joys.
Now, to make this a success, it has been my experience that the two most important variables have nothing to do with the kids themselves. These two variables are leadership and parents. Without good, faithful and thoughtful leadership, the best of intentions will almost always go awry. Without the enthusiastic committed encouragement of parents, it is the rare child that will get involved. For having been involved in this work for 3 decades, it is my experience that the kids are the easy part. They hunger for a place to be fed spiritually, morally, and creatively--whether they can give voice to that or not. Good youth ministry feeds our teens with prayer, good work, good fun and usually a lot of pizza.
The Rev. Bob Hooper is the rector of St. James's Episcopal Church. He blogs for St. James's every Tuesday, reflecting on the community, parish life and (being Rector) anything else he likes.