Summer is fast approaching, which means our schedules will be changed to accommodate hikes through the Connecticut wilderness, vacations to "the Cape," and lazy days sunbathing in the backyard. I myself plan on spending a few days in Provincetown with friends and as much outdoor time as I can squeeze in my schedule.

With these glorious summer days ahead, I'm reminded that the long, easy days offer abundant time for even the briefest time of spiritual reflection. There are several great resources available to guide you through your own daily devotional time, and one I encourage you to try is a new publication by Ian Markham called Faith Rules: An Episcopal Manual.
Many of you know Ian Markham, current dean and president of Virginia Theological Seminary and former dean of Hartford Seminary. Ian has preached as St. James's on numerous occasions, and has published more books than I can count on my hands. After discovering Michael Pollan's Food Rules, Ian spent time developing a list of sixty-seven rules for being an Episcopalian. "Rules" like:
Disconnect from the tech.
Start every day giving thanks for everything that is good.
You don't have to believe everyone else is going to hell.
For each "rule" there is an accompanying illustration by a friend and classmate of mine, Benjamin Hart, and a paragraph or two of explanation. The book closes on a rule regarding perspective:
67. Remember it is all about God.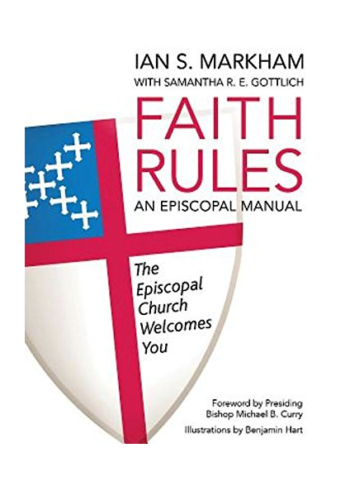 Once you are in the middle of this journey of faith it is very easy to lose sight of the big picture. There will be moments when all you can see are the challenges in your life or the chaos in your church or the immediate muddle right in front of you.
Perspective—this is the key. Remember we believe in a God who shaped a universe that is 13.7 billion years old. Remember that living on planet earth right now are 7.3 billion people. Remember it is likely that sentient creatures are on other planets. Perhaps there are other universes and the number of lives being sustained by God is phenomenal. And remember at the core of all creation, whether it is one universe or a hundred universes, is the Love Project.
Perspective helps. It locates our immediate worries. It also helps us to learn that most basic faith skill—the skill of trust. God has been around an awfully long time; God will take us through this season surrounding us with love and peace. Just trust.
With that I commend to you Faith Rules as a summer devotional. If you read one "rule" every morning or evening, you will have food for thought every day. Try it out, and let me know how it goes.