That Little Chapel on that Little Island in Maine
For the last 14 summers I have had the privilege and the joy to worship with and serve a small group of Episcopalians on an island in Casco Bay, Maine (just off the coast of Portland) for 4 weeks/5 Sundays a year. This experience is so different than anything else I do during the rest of the year as an Episcopal priest. For starters as the rector of a thriving suburban parish, I spend a great deal of time doing administrative tasks, addressing issues of stewardship and budgets, and focusing on evangelism—church growth. All good work and things I am very comfortable with and I think good at doing.
The one and only thing that this little chapel in Maine is focused on is being a faithful witness to God's love in worship and caring for each other. Yes, they provide much needed dollars to small groups on the island that struggle under very restrictive budgets, but all in all it is about this little community supporting each other in their faith journeys and reaching out to those in need.
You might ask yourself how this is so different to what the wider Church does—or should be doing. It's not really, but it is. Looking back over the chapel's parish registry for the last 50 (or so) years, the first thing one notices is that the numbers have never really changed. This community of faithful folks has always numbered, year in and year out, between 15 and 25 people. It is a beautiful reminder of the reality that Jesus blesses us in so many different ways, big or small.
As an ex-stock broker and having always served in suburban churches I am a numbers guy. I follow Sunday attendance, budgets and most importantly newcomers. I count baptisms vs. burials (and I'm glad to say that baptisms are way in the lead) and how many kids show up to Sunday School. For those of you who are new to the institutional church, this might sound really crass but it is how we keep the ship afloat, the doors open and equip ourselves to do the real work—the good work that God calls us to do.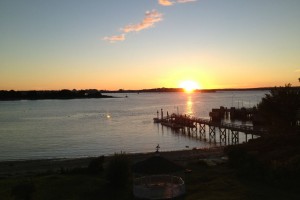 The thing about that little chapel on that little island in Maine is that it is a yearly reminder to me. A reminder that while ministry can be complex and even at times exhausting, sometimes what is really important is just being with each other and knowing, truly knowing, that God is in our midst and that we are loved.
The Rev. Bob Hooper is the rector of St. James's Episcopal Church. He blogs for St. James's every Tuesday, reflecting on the community, parish life and (being Rector) anything else he likes.