Our online book study of Rachel Held Evans' Searching for Sunday continues with a reflection from parishioner Barbara Rua. For next week, read section three: Holy Orders.

Each week, one new entry by someone connected to the St. James's community will post to this blog on Wednesday morning covering one section of the book. Please enter your email address to the right to receive these posts in your email inbox. Use the comment section to answer the discussion questions, and share these posts with your friends!
+
Coming off of the Baptism section of Searching for Sunday, I found myself uneasy when I realized the section I was tasked to write on was Confession. I was relieved to quickly discover the chapters were nothing like I assumed, despite my ominous expectations. Instead, the section begins with biblical references, quickly transitions to history on Evans' separation from church and ultimately ends with her big return to church.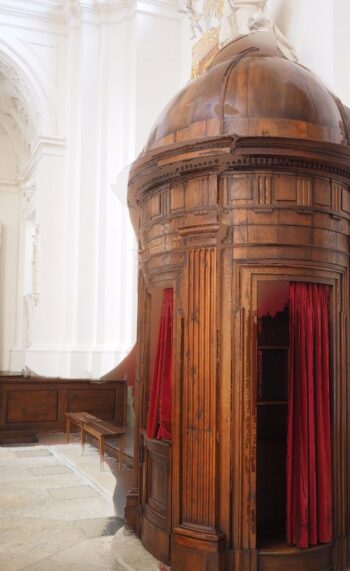 Evans explores a topic similar to a theme discussed in a sermon Curtis prepared several months ago—when church becomes a place visited with an interview face on, rather than a place to turn to during life's challenges. As Evans says, "we think church is for taking spiritual Instagrams and putting on our best performances. . . So we fake it. We pretend we don't need help and we act like we aren't afraid. . ." Evans' experience shows not only how this fear can draw a member away during challenging times but also how it can change the person while at church such that they're in attendance but no longer present. Evans wonders if she was a changed person in order to conform with her church and if she can she turn to her church for her crisis in faith.
Evans divulges her inner turmoil with the church she was involved in. How could she be a part of a church that touts positions that are not in line with her personal views? Evans struggles with a feeling of guilt when she doesn't speak up in defense of her mind and heart and lets fear direct her on a major belief. She stays silent, but it eats away at her.
Ultimately, Evans finds she is not present at church and steps away altogether. She steps away on principles, as she strives to figure it all out. She enjoys mornings in, watches television in pajamas, and leisurely enjoys coffee and crossword puzzles. (Having watched Battlestar Galactica myself, I can fully appreciate the temptation.) Evans believes she has an empty space that her church had previously filled for her but before she can even finish processing what to do about it, an opportunity arises and Evans returns to church but in a very different way.
While reading Evans' struggle, I began thinking about the things people say around me. I wondered, do I speak up when called to do so? Am I called to do so all the time? Does it count as participation if one is silent in unnecessary and negative conversations about friends, family, or strangers? Or, is the expectation upon hearing a fleeting comment to explain it makes me uncomfortable, or I don't agree, rather than look the other way? Aren't they entitled to their opinions? Are all battles worth fighting? Evans' inner dilemma can easily be debated and relates easily to both everyday life and Sunday mornings.
Question For Discussion
How do you relate to Evans' "crisis of faith?" or with a time when you felt your belief system was tested?