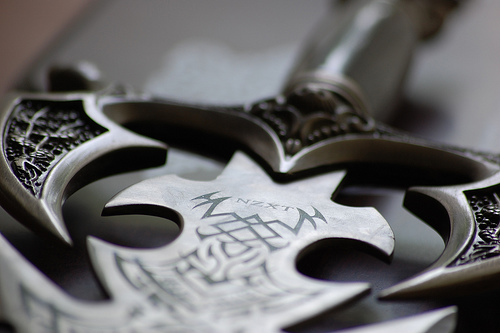 Proper 7
I'm going to use the summer months to pose questions and more brief reflections connecting to the lectionary. The immediate reason for this is that I have a lot on my plate with a wedding to drive to in Ohio this weekend, a mission trip/pilgrimage to the Dominican Republic in a week and a half, and a wedding to plan. Another reason is that in the summer months I find that I have less motivation to do significant writing and reading, or rather, I read more for pleasure during the summer. If you're the same way, you may enjoy these questions and reflections. My hope is that they will set your mind on a particular topic as you do whatever it is that you do during the summer.
So here we go:
In Matthew 10:24-39, Jesus says, "Do not think that I have come to bring peace to the earth; I have not come to bring peace, but a sword."
This is one of those uncomfortable images of Jesus that sound violent, and it doesn't stop there.
"For I have come to set a man against his father, and a daughter against her mother, and a daughter-in-law against her mother-in-law; and one's foes will be members of one's own household."
I think the last part of that is the most violent suggestion—could you even imagine? We don't even keep those foes as friends on Facebook!
I saw a quote this morning by Preston Sprinkle, in which he writes,
"In a world swimming in violence, in a land where "messiah" meant militancy, Jesus never acts violently. Whenever violence is addressed, Jesus condemns it. Whenever His followers try to act violently, they are confronted. Whenever Jesus encounters people who deserve a violent punishment, Jesus loves them. And in doing so, He leaves His followers with a nonviolent example to follow."
Sprinkle's point only goes so far for me. No, Jesus did not abuse his political influence to overthrow Jerusalem, but he did speak violently (as in the case of this week's passage from Matthew), and he did throw that holy tantrum in the Temple when he overturned the moneychangers' tables. But that isn't even the problem I have with statements like this about Jesus and nonviolence.
The problem is who tells who to be nonviolent.
One could argue that the kinds of racial and economic oppression embedded in complex systems in the United States and across the globe are violent. This violence doesn't usually look like guns being fired or punches being thrown, but it sure seems like violence to me. Yet we hardly speak of it as violence—some among us even congratulate the abilities of a select few to find so much success at the expense of so many others.
Yet we hardly ever talk about these daily occurrences as being violent. In fact we're more likely to point the finger of justice at those who are disadvantaged by such systems and react with what could be considered an appropriate response.
When Jesus says that he comes not to bring peace, but a sword, could he mean that violence has its place in uprooted systemic oppression? Is God on the side of the oppressed? Whether or not you think violence has a place, what kind of violence is a more pressing issue?
The Rev'd Curtis Farr is the assistant rector of St. James's Episcopal Church in West Hartford, Connecticut. He offers reflections on the lectionary readings for the upcoming Sunday. His website is FatherFarr.com, and his Tumblr blog is BowingToMystery.com.
Image: "NZXT Sword" by Lemsipmatt is licensed by CC BY 2.0