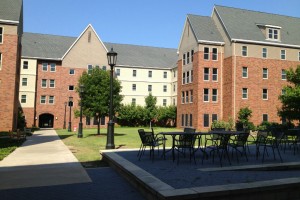 This past week I drove my son, Henry, to Fayetteville, Arkansas to begin his freshman year at the University of Arkansas. While preparing for the trip and driving (2700 miles round trip) I kept asking myself if Henry's mother and I had done everything we could to prepare him for this next stage in his life. I kept thinking "What had we forgotten, What did he need to know that we had not told him?"
The answer that came back to me was,"Who knows?"
The other answer that came back to me was - Henry in a self-reliant, bright, independent individual with significant intellectual and emotional skills. He is kind, a good and loyal friend and level-headed. So, I told myself - What more can you ask for? Stop worrying. Then a new question came to me - "How did this happen?" While not being a perfect parent (not even close) the few things that we have tried to teach our kids have been, that they are loved by us and their God and that we all have a responsibility for others.
No matter how hard you try these are not lessons that you can teach on your own. To make these lessons a reality in one's life they must be observed and practiced. To do this we need to have ever-expanding circles of relationships that begin when we are children with are parents and nuclear family, expanding to friends in or youth and the wider community, as we grow older. To my way of thinking there is no better way to do this than in the context of a community that meets in the understanding of God's love - The Church.
All of our three children have grown up in the Church, each with a different and distinct way of relating and negotiating the realities of community. The constants being; an knowledge that they are loved and respected for who they are and that they belong to something bigger than themselves. So many try so hard and put so much importance on teaching religious "facts," doctrine and dogma and miss altogether the simple reality that what is important is Jesus' message of acceptance and love. This will not be taught through memorization but only through experience. To experience something, one needs to be a part of it, a participant in those moments when the message might just get through. This is true for everyone not just kids - sometimes it is the adults most in need of the reminder that they too are accepted and loved.
So Henry is off to college, we all begin something new each day. Will he be fine? Of course he will, and for that I thank my God and my community who have so generously, graciously and faithfully help his mother and me raise our kids.
And I would not have done it any other way.
The Rev. Bob Hooper is the rector of St. James's Episcopal Church. He blogs for St. James's every Tuesday, reflecting on the community, parish life and (being Rector) anything else he likes.