Everyone Needs a Little Jesus in their Lives
Last week I introduced many of you to the icon of Jesus from the movie Dogma called "Buddy Christ". While it was just a lead-in to a more important conversation it got me thinking about an action figure I once saw of " Buddy Christ" - and yes, I found one on line and bought it.

I mean he's nice to have around, this smiling and encouraging image of our Lord. Sitting on my desk winking at me - yes, winking. On Sunday he traveled with me during coffee hour in my shirt breast pocket (he is only 4 inches tall). This gave me the opportunity over and over again for a great (in my humble opinion) one-liner. When folks asked me what that was in my shirt pocket I pulled him out and explained, "everyone needs a little Jesus in their life" (clever - huh? I thought so - I do enjoy my own humor).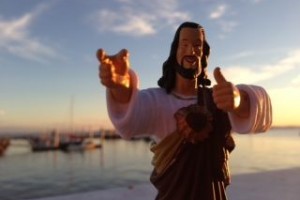 As the story of "Buddy Jesus" continues at St. James's, we are now sending him out into the world with members of our community. As parishioners, young and old, travel we hope that they will take photos of our wandering Lord on location. Just this past Sunday evening, he spent some quality time enjoying the nice cool breeze on the Long Island Sound as our Boys and Girls choir visited beautiful Calvary Episcopal Church in Stonington, CT to sing Evensong.
This may all seem a little silly, and even to some irreverent, but it allows for an opening and much more important conversation. That conversation being, "How do we take Jesus into the world whether it be the workplace, the school yard or the mall?" Many of you have heard me say, "The only Bible most people will ever read may be you." As Christians it is how we lead our lives, spend our money, and our time that speaks most clearly of what we believe.
If we take even a moment to look at the life of Jesus as delivered to us in the gospels, much of this can become very clear. How did Jesus spend his time and energies? He spent them healing the sick, caring for the needs of the poor, feeding those who hungered both physically and spiritually and welcoming the stranger amongst us. The wonderful thing about these examples and opportunities for faithful living is that they are things that we can do in our lives here and now. You're thinking, just about now, how can I heal the sick? Well let me tell you, providing a meal for the family of a sick friend, spending time with someone who is shut in due to illness or age, or just spending a little time praying can have amazing healing properties.
I may have joked on Sunday morning with my new favorite toy that everyone needs "a little Jesus" in their lives but I actually believe it.
Stay tuned for more adventures of "Buddy Jesus" to be updated on Thursdays in our blog. If you are interested in taking "Buddy Jesus" on your next trip, please just ask. He leaves this Thursday for a wedding in Ohio followed by a few days in Las Vegas--do you think Vegas is ready?
The Rev. Bob Hooper is the rector of St. James's Episcopal Church. He blogs for St. James's every Tuesday, reflecting on the community, parish life and (being Rector) anything else he likes.