Episcopal Worship May Be Rote, But That's What Makes It Essential
I've reached that point in summer vacation when I long for the school-year routine to kick in again. For the first six weeks or so of summer vacation, we revel in our leisurely mornings, freedom from overstuffed afternoons spent in the minivan ferrying three kids in three different directions, and relaxed dinners, possible because we don't have to accommodate homework and reasonable bedtimes.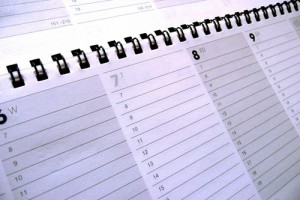 But by this point, in early August, our lack of routine has lost its charm. Because each day's activities are different than the previous day's, I spend more time than I'd like coordinating and cajoling to get kids where they need to be. My work suffers, as I lack set child-free hours devoted to writing—and have competition for the family laptop. The kids are no longer quite so enchanted with their unscheduled hours; they're bored. Without set routines, we become restless and disoriented.
This unsettled time of year reminds me that, while routines can feel stale and confining, they can also provide a necessary sort of freedom. Routines allow us to relax into familiar rhythms and roles, to be fully present to one another and the tasks in front of us, because we know what is expected and what comes next.
The value of routines, the way that they can help us to settle and to focus, is apparent also in worship. It is tempting to dismiss our Episcopal form of worship, with its basic structure repeated week after week, as rote and superficial. Repeating the same prayers and responses every Sunday doesn't leave much room for spontaneous emotion or heartfelt devotion, does it? All we need do is read from a centuries-old book. We don't have to mean what we say, or even much think about it. Isn't that type of worship empty, meaningless?
For a time in college, when I was part of an evangelical college fellowship, I thought so. In my Bible studies and group worship meetings, I tested out more spontaneous, casual forms of prayer and worship. But eventually, I ended up returning to a more traditional, liturgical, historically rooted tradition—first in a small ecumenical church I joined in Washington, DC, and eventually, after moving back to my hometown of West Hartford, in the Episcopal tradition in which I was raised.
Theologian and author Lauren Winner explains in her memoir Girl Meets God why she chose the Episcopal Church after converting to Christianity from Judaism. Episcopalianism reminds her of Judaism, with its focus on reading in the context of historical tradition (balancing "the Bible with the weight of centuries of church teaching") and uttering prayers that connect us with a historical and worldwide community of believers. Winner writes of Episcopal worship:
….liturgy is dull, and habitual, and rote, and you memorize it, and don't think about what you are saying, and it is, regardless, the most important thing on the planet. It is the place you start, and the place you come back to….[An]other familiar thing [from her Jewish past], when I first walked into an Episcopal church, was the prayer book, the habit of fixed-hour prayer, the understanding that you were saying more or less the same liturgy as Anglicans around the world, that you would say the same prayers every morning, every evening, over and over and over, till you knew them by heart, and long after that, till they were rote and boring, comfortable as your best friend's kitchen and familiar as flapjacks.
I married my husband because I fell in love with him, yet our life together is centered not on romance but on the family life we have crafted. That life is built less on exciting vacations and anniversary dinners than on packed lunches, drop-offs and pick-ups, conversation around the dinner table, homework help and bedtime stories. Our bonds as a family are not merely strengthened by these routines. Our bonds are formed in these routines.
Our faith is likewise formed and strengthened by routines—by words and liturgies and music that connect us with believers across time and place. I enjoy a good spontaneous prayer, improvised worship song, or original liturgy now and then, just as I enjoy vacations, holidays, snow days, and other respites in our busy family routines. But in both worship and family life, I long to return to the same old routines that help me remember where and to whom I belong.
What do you love most about our Episcopal worship traditions and routines? If you too are a parent of school-aged children, are you enjoying the flexibility of the summer routine or longing for school to start again?
Ellen Painter Dollar is a professional writer and member of St. James's Episcopal Church. She blogs for St. James's every Monday, offering reflections on current events, family life, and parish life.