In the 1999 comedy Dogma, Ben Affleck and Matt Damon star as two fallen Angels who while trying to redeem themselves so that they may reenter heaven encounter a number of trials. These trials are small things like trying to prevent the destruction of the world and fighting Satan himself. As they face these trials, they are also aiding in the efforts of a floundering Catholic parish, in Red Bank, NJ, trying to save itself from irrelevancy.
If you have no taste for sacrilegious humor, heresy, or religious parody - do not, I repeat do not watch this movie. On the other hand, it is pretty darn funny and at times thought provoking.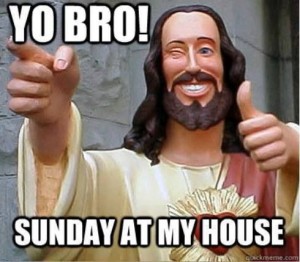 The best character in this movie is Cardinal Glick played by one of my all time favorite entertainers, George Carlin. The Cardinal has decided that Catholic (and by extension all Christian) Dogma and worship is "wholly depressing." To remedy this the diocese under his charge embarks on a new campaign to rebrand itself entitled "Catholicism WOW!" At the center of this campaign is a new image of Jesus named "Buddy Christ." This new icon of our Lord consists of a statue of Jesus, smiling and winking while pointing at onlookers with one hand and giving the thumbs-up sign with the other hand.
I'll admit, for as much as the whole idea makes me smile, it is quite ridiculous. But, it does beg the question, is it possible to worship God, respect the dignity of all of creation and serve others in Jesus' name while not taking ourselves so seriously? For years the Church has been so caught up in the minutia of the details of liturgy and Dogma to the point that we have lost sight of what is at the core of Jesus' message - service, love and joy.
After nearly every Sunday service I have the opportunity to speak with newcomers. One of the first things that most of them say to me is that they love the sense of joy and celebration that they experience at St. James's. Whether it is a sermon focusing on our foibles and God's understanding or a small child dancing in the center isle during an anthem - it is clear that while we take God's word and commission very seriously we do not get all hung up taking ourselves to seriously. AND I LOVE IT.
One of the things that has always attracted and encouraged me about Christianity is that we follow a God who surrounded himself during his time on earth with people I understand. Think about it for a second. Jesus actually chose, intentionally chose, Peter, James, and John as companions, friends and the foundation of our faith. If these could do it, anybody can. Peter is known for questioning Jesus, putting his foot in his mouth, and missing the point all together so often that even Jesus loses patience from time to time. The sons of Zebedee, James and John, argue so much that Jesus dubs them the sons of thunder. If these three can do it so can you and for that matter, even me.
We should never lose sight of the importance of the work we have been given to do but at the same time, it will be lost if we do not do it with a sense of joy and wonder.
The Rev. Bob Hooper is the rector of St. James's Episcopal Church. He blogs for St. James's every Tuesday, reflecting on the community, parish life and (being Rector) anything else he likes.