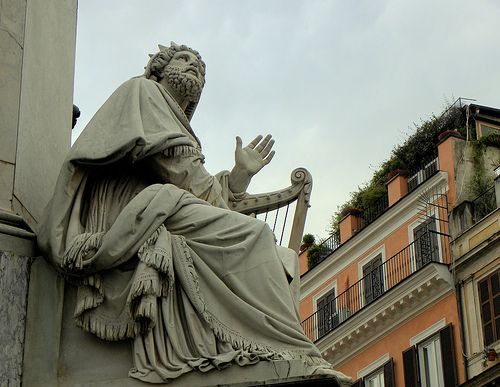 Think that some of that New Testament talk about the weak being strong and the disadvantaged being blessed was revolutionary? Think again. The story of David's unlikely rise to power as the youngest, one of the smallest, and the least likely brother of eight sons is just one example of how the Hebrew Scriptures (or Old Testament) demonstrates God's desire to lift up the lowly.
Samuel, a big deal in Israel—a prophet who talks to God even more directly than Moses it seems—is mourning over Saul's fall from the throne. God is ready for Samuel to go and find the new king, so God sends him to Jesse. Of course, he'll have to do so discreetly without arousing Saul and the awkwardness of picking his successor. God gives Samuel a game plan and Samuel meets up with Jesse.
They go to Jesse's house and take a look at his sons, one by one. The first one is cut—totally ripped; he looks like he'd make a powerful king. God's like, "Biceps schmiceps, look into his heart—his soul."
Move along, Eliab.
Then Jesse calls Abinadab. Then he calls another son, and another, and another, and two more. God says, "no" to every one of them.
Finally Samuel asks, "Do you have any other sons?"
And Jesse is like, "Only my youngest—the bashful pretty boy, David. He's out with the sheep."
When David comes into the house, God tells Samuel to anoint him as king. And that was that. David becomes a great king after he defeats Goliath and does a whole bunch of other good stuff (I'm not going to tell you the whole story…pick up a Bible!).
But there you have it—David is this young, petite, pretty boy, yet from something so small comes something so great. If it sounds like Jesus' Parable of the Mustard Seed or like any other number of things in the Bible, it's because this is one of those themes that just seems to come up time and time again.
Why would God use the small things to do the great things? And what does it mean for us? Are we like David, or are we like his oldest brother Eliab—powerful? For different reasons, each of us are probably a little bit of both. What this might mean is that in seeking God's purposes for our lives, we can freely pay attention to all parts of our identity and seek to do the greatest amount of good with things that seem like shortcomings or weaknesses.
What parts of you do you typically write off as weaknesses or shortcomings? How can you use those to follow Jesus and treat others with the love that God shows to us?
The Rev'd Curtis Farr is the assistant rector of St. James's Episcopal Church. He blogs for St. James's every Wednesday, offering reflections on the readings of scripture from the upcoming Sunday. His personal blog is entitled Bowing to Mystery, on which he posts sermons, articles, pictures, videos, etc.
This is a weekly contribution to the creative and imaginative process of interpreting the black and white fire of Scripture. Sometimes using an adapted process of Midrash, the author includes historical/cultural information, personal anecdotes, and other theologians' ruminations on selected passages from the upcoming Sunday's lectionary readings. All are welcome to journey into the fire by using the comment sections on the blog itself, or on Facebook or Tumblr.
Photo: Ian Scott, Flickr