The Darkness before the Dawn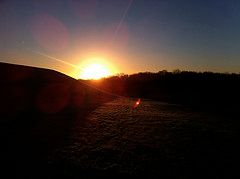 There is no coincidence that Christmas comes when it does on the calendar. The winter solstice (the day of the year with the least amount of sunlight) in the northern hemisphere falls on either Dec 21 or 22 every year - this year it's the 21st. So Christmas, the celebration of the coming of the Light of God into the world in the form of Jesus is celebrated just as the days become longer and the darkness is overcome by the light (read John 1). This means that Advent is the time when we are called to prepare for the dawn. While even though there is more and more darkness everyday in Advent we know as followers of the God of Light that this is not the natural state of God's Kingdom.
This reminded me of this short parable I heard the other day, so I thought I would share it with you.
Darkness and the Dawn - from Henri Nouwen's Finding My Way Home.
The rabbi asked his students: "How can we determine the hour of dawn, when the night ends and the day begins?"
One of the rabbi's students suggested: "When from a distance you can distinguish between a dog and a sheep?"
"No," was the answer of the rabbi.
"It is when one can distinguish between a fig tree and a grapevine?" asked a second student.
"No," the rabbi said.
"Please tell us the answer then," said the students.
"It is then," said the wise teacher, "when you can look into the face of another human being and you have enough light in you to recognize your brother or your sister. Until then it is night, and darkness is still with us."1
1. Although Henri told this parable many times, it most recently appears in Finding My Way Home (2001), p.87
The Rev. Bob Hooper is the rector of St. James's Episcopal Church. He blogs for St. James's most Tuesday, reflecting on the community, parish life and (being Rector) anything else he likes.