We have made it to the end of this journey, Searching for Sunday with Rachel Held Evans. Thank you to Laura, Anne, Barbara, Borden, David, Jackie, Terry, and Ellen for your thoughtful contributions to this online book study.
I chose Searching for a book study because while our journeys of faith all look different, the thing they share is the element of pursuit. We have questions. We have doubts. We have disappointments, fears, and joys. When you think of the great diversity in the Church (from the Catholics to the Protestants, from the Methodists, Evangelicals, Free Presbyterians, to the Locked-Up Presbyterians...and of course the Quakers, the Bakers, and the Candlestick Makers), we all share in the Body of Christ and not one person or group holds a monopoly on "legitimate" Christianity. This book may be taken quite differently by people in those various groups, but what is most remarkable is Evans' ability to honestly describe this part of her journey in a way that is approachable and humorous for most people.
If you have not read Searching, I encourage you to do so. Whether or not you have or will, think about what it might look like to share this story with your beloved, your children, or a trusted friend. It feels good, and we can all relate to the search.
Thank you for reading, and I will close with Evans' words from the Epilogue: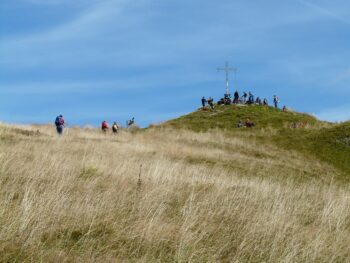 "...if I've learned anything in this journey...it's that Sunday morning sneaks up on us--like dawn, like resurrection, like the sun that rises a ribbon at a time. We expect a trumpet and a triumphant entry, but as always, God surprises us by showing up in ordinary things: in bread, in wine, in water, in words, in sickness, in healing, in death, in a manger of hay, in a mother's womb, in an empty tomb. Church isn't some community you join or some place you arrive. Church is what happens when someone taps you on the shoulder and whispers in your ear, Pay attention, this is holy ground; God is here."