We always do this thing in Episcopal churches (lots of others do too) when on Palm Sunday we gather outside of the church building before the service. Someone deals palms and miniature crosses to everybody, and we wave them all around as we sing something joyful and triumphant like "All glory, laud, and honor," marching into the church as if we've had a major victory.
Following our magnificent entrance into the church, our party is quickly squashed by dramatic lectors who act as "Debbie Downers," reading the Passion (this year from Matthew).
This always confused me as a child; why would we celebrate just before hearing about Jesus being betrayed by his friends, unfairly tried, and wrongfully murdered? Seems like a pretty obvious case of Bait & Switch—and an overly dramatic one at that. But then again, this is sort of the flow of events of the Palm Sunday story, isn't it?
Jesus does his best Shrek impression and requests a "donkey," the disciples find him one, and a humongous crowd covers the road with tree branches as Jesus rides into Jerusalem. They sing, "Hosanna to the Son of David! Hosanna in the highest heaven!" Everything seems groovy; Jesus is here, presumably to use his political momentum to take some control of the religious scene in Jerusalem. His disciples—all of his followers—are ready to stand with Jesus as he takes his rightful throne…
…which means that the week only got worse for everyone involved.
Jesus didn't take control of Jerusalem, he didn't climb to a throne, and he didn't succumb to the temptations of the devil, who this time met Jesus in his friends and followers' hopes that he would exploit his political opportunity. The disciples hoped that their mission had been accomplished, but it had hardly begun.
Naturally, the disciples become upset as time days go by and Jesus keeps talking about how he must be crucified. He continues teaching, but his disciples want action.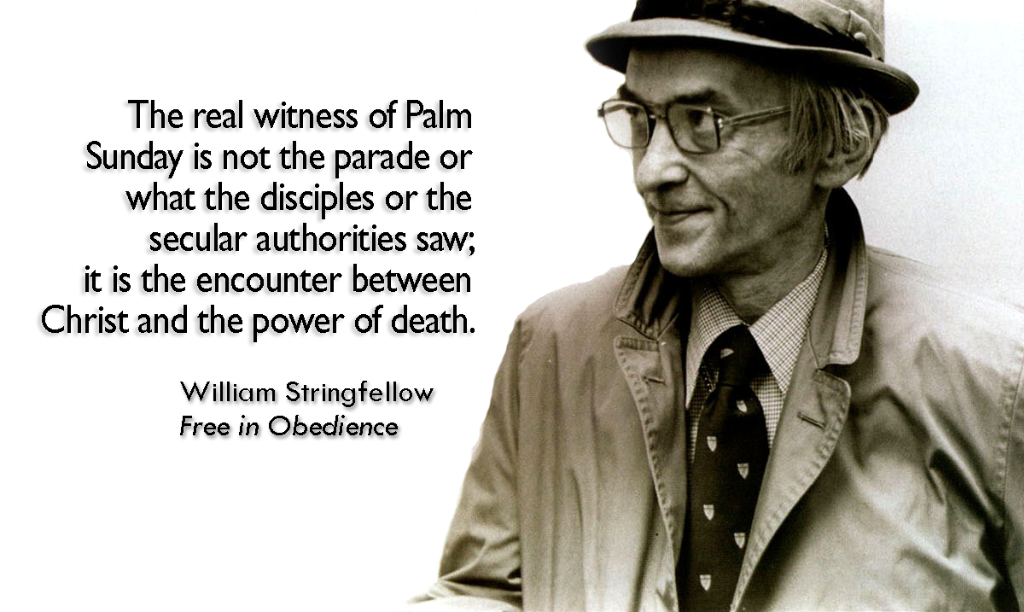 "Poor Judas," William Stringfellow wrote in Free in Obedience, "…portrayed as he usually is as some monstrous traitor, a greedy, hapless, sullen, and despicable man. I suggest it is more faithful to the New Testament to see Judas as a man who had dedicated his life to a great cause and who on the night of the betrayal was desperately and pathetically disillusioned with the One who was his leader. Perhaps Judas felt that he had been betrayed by Christ. And why expect Peter to have the faith not to deny Christ? Only fools have courage for lost causes."
Naturally, the rulers of Israel and Rome saw Jesus' potential to grab "their" power and squashed it soon after his seemingly triumphant entry into Jerusalem, yet for his followers, Palm Sunday "is a day of profound humiliation," to quote Stringfellow again.
The question for you the reader, me the writer, and us the Christians (I'm guessing, because why else are you reading this?) is this: what do we do with the reality of this Palm Sunday closely followed by Good Friday situation? How do we live in the world with the knowledge that maybe Jesus wasn't about getting "his people" and himself into positions of worldly power or authority? What is our role as witnesses to a world seemingly ruled by the powers of death but in reality ruled by Christ (who conquered death, of course)?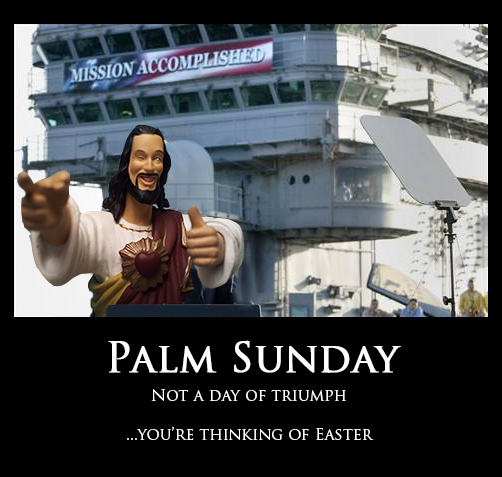 Stringfellow, again, says that our role is sacramental, not moralistic. This means that we live fully involved in the world but with an understanding of how to use what is at our disposal. The only real thing any of us have for certain are our lives—as long as we live, we can offer our lives to whomever and whatever we choose. We also may have money, status, technical abilities, professional training, or any other kind of thing at our disposal. All of these things can be used to worship anything and everything other than God, but they also can be used sacramentally—as an outward and visible sign of an inward and spiritual grace.
The challenge for us then is not to figure out the right combination of word and practice in order to follow Christ; our challenge is to push ourselves and each other to do everything for the sake of God and God's love for us made known through Christ.
That is our mission, if we choose to accept it.
The Rev'd Curtis Farr is the assistant rector of St. James's Episcopal Church. He blogs for St. James's every Wednesday, offering reflections on the readings of scripture from the upcoming Sunday. His personal blog is entitled Bowing to Mystery, on which he posts sermons, articles, pictures, videos, etc.
This is a weekly contribution to the creative and imaginative process of interpreting the black and white fire of Scripture. Sometimes using an adapted process of Midrash, the author includes historical/cultural information, personal anecdotes, and other theologians' ruminations on selected passages from the upcoming Sunday's lectionary readings. All are welcome to journey into the fire by using the comment sections on the blog itself, or on Facebook or Tumblr.