Transfiguration Sunday: Matthew 17:1-9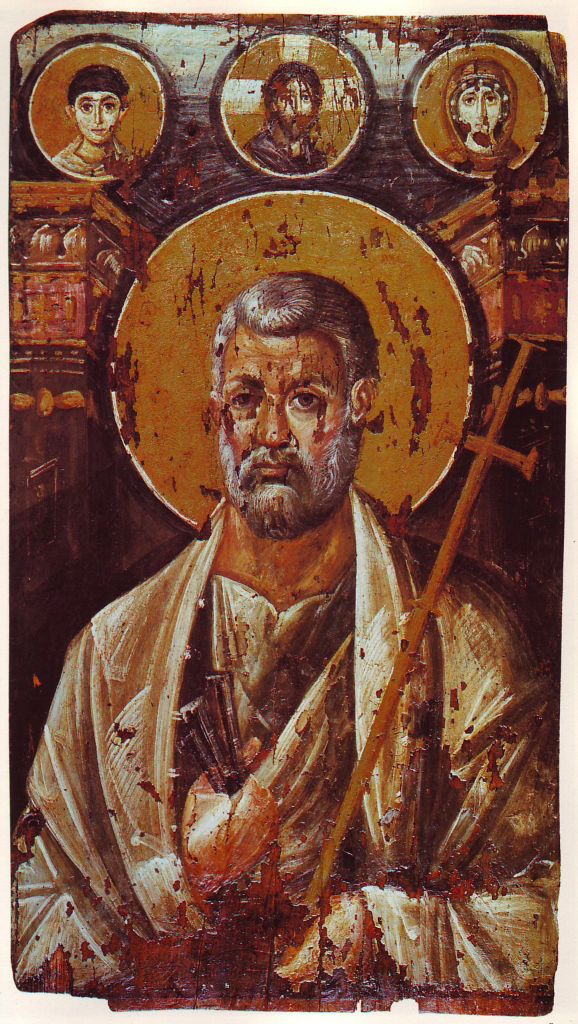 How awesome is Peter? I have this huge poster of an early icon of Peter in my office (pictured to the right). I love Peter because within about eleven verses (Matthew 16:18 to 17:2) he is called the rock on which Jesus will build his church, he is called "Satan" by Jesus ("Get behind me, Satan!" 16:23), and he witnesses the Transfiguration of Jesus on top of a mountain.
Are you freaking kidding me? He's the rock on which Jesus will build his church and he's such a stumbling block that Jesus calls him "Satan?" He must be a Libra.
And then to witness this moment when Moses and Elijah appear next to Jesus, and they are surrounded in light as a voice says, "This is my Son, the Beloved," Peter must have just been completely blown away.
On the other hand, Peter has also begun a process of mourning—before ascending the mountain, Jesus tells his disciples all about how he will be going to Jerusalem and will undergo tremendous suffering. Jesus has become pretty important to them; they're quite attached.
According to Maryetta Madeleine Anschutz' beautiful section in Feasting On the Word's entry for Transfiguration Sunday, it is in this intimate and magnificent moment on top of the mountain that Peter, James, and John witness both and affirmation of Jesus' divinity as well as "eyes to see God's light in the chaos to come: death, loss, fear and resurrection, the work of the early church. The challenge to the disciples is to live in a world without Jesus' bodily presence. The transfiguration anticipates this challenge, inviting us to live in 'the light of the knowledge of the glory of God in the face of Jesus Christ' (2 Cor 4:6). As that light shines in our hearts, the incarnate God is made real in the every day."
Anschutz writes such a beautiful reflection on this reading, that I would like to tender the rest of this post to an excerpt from that reflection.
"C.S. Lewis writes a final word from Aslan in The Silver Chair: 'Here on the mountain I have spoken to you clearly. I will not often do so down in Narnia. Here on the mountain, the air is clear and your mind is clear; as you drop down into Narnia, the air will thicken. Take great care that it does not confuse your mind. And the signs which you have learned here will not look at all as you expect them to look, when you meet them there. That is why it is so important to know them by heart and pay no attention to appearance. Remember the signs and believe the signs. Nothing else matters.'[1]
God prepares people in the transcendent encounters of our lives to endure the world below, the world of the cross, the world that has the ability to break us and yet is never beyond God's redemption. These encounters happen on mountaintops with a blinding light for some. For most, they happen in the ordinary moments of our classrooms, boardrooms, and soup kitchens—any place where we make a space for the Holy to be present."[2]
As we approach Lent (Ash Wednesday is next Wednesday!), consider making part of your spiritual practice a sort of internal awareness of God's light shining through the chaos to come, and think about what that means for us and our world.
The Rev'd Curtis Farr is the assistant rector of St. James's Episcopal Church. He blogs for St. James's every Wednesday, offering reflections on the readings of scripture from the upcoming Sunday. His personal blog is entitled Bowing to Mystery, on which he posts sermons, articles, pictures, videos, etc.
This is a weekly contribution to the creative and imaginative process of interpreting the black and white fire of Scripture. Sometimes using an adapted process of Midrash, the author includes historical/cultural information, personal anecdotes, and other theologians' ruminations on selected passages from the upcoming Sunday's lectionary readings. All are welcome to journey into the fire by using the comment sections on the blog itself, or on Facebook or Tumblr.
---