Jesus is healing again. This time he heals ten lepers in a village somewhere outside of Jerusalem. They ask for mercy, he sends them to the priests, they are made clean, and they go on with their lives. One of them turns back, praises God, prostrates at Jesus' feet and thanks him. Jesus, confused, asks why out of ten only one came back to thank him. He makes note of the fact that the one who did thank him is a foreigner—a Samaritan (boooooo!). Jesus tells the Samaritan to get up and go; his faith has made him well.
But I thought that when Jesus sent the ten to the priests they were made clean. Isn't being made clean and being made well the same thing? And wasn't it Jesus who did the heavy lifting, not the lepers? Are the other nine suddenly going to find themselves infected again?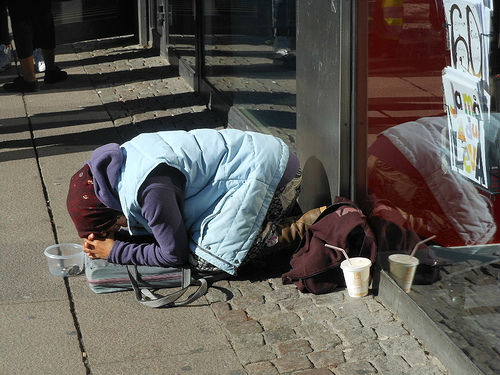 Turns out, there is a difference not only in the English, but in the Greek. The word, "καθαρίζω" (katharizó), is applied to the ten after they see the priests. The word, "σῴζω" (sózó), is applied to the Samaritan when Jesus sends him on his way. "Katharizó" refers to cleansing, probably ceremonially in this priestly context; Sózó refers to salvation or healing. Something different seems to have happened for the Samaritan; some remaining questions are as follows:
What is the difference in significance between katharizó/cleansing and sózó/healing?
Did the Samaritan bring on his sózó/healing by thanking Jesus, or was his gratitude a sign of sózó/healing that had already occurred within?
What does the difference between katharizó/cleansing and sózó/healing mean for our lives here and now?
Might gratitude be a theme with which we can play after ready this story of the healing of the ten lepers? I wouldn't characterize Jesus as attention-hungry, and I don't think he did what he did for glory—at least not to be glorified as a king during his lifetime; however I do think that he constantly tried to model loving kinship. The other nine lepers kind of cut off their relationship to Jesus once they were ceremonially cleansed. After that, they went on with their lives.
I do this all of the time. I worry and fret about my circumstances. I hope for solutions and positive outcomes. And then once those happen, I forget about that whole period of worrying and learn little from the experience. We have a tendency to look forward more than backward—we even consider that a positive quality in people in pop culture. But part of a relationship includes a back and forth—recognizing moments of grace with intentional gratitude.
If the Samaritan was a foreigner in this village—and in this group of ten—maybe he had some reason to be extra grateful. Maybe he had a little less privilege and was a bit less entitled than his nine friends.
If nothing else, this story of Jesus and the ten lepers causes us to consider how we practice gratitude toward each other and toward our God. Maybe this story also causes us to think about some of our sisters and brothers who do not anticipate the kind of cleansing or healing that we have come to expect. If we're lucky enough to be saved, which we are, we can at least thank the nice Savior.
The Rev. Curtis Farr is the assistant rector of St. James's Episcopal Church. He blogs for St. James's every Wednesday, offering reflections on the readings of scripture from the upcoming Sunday.
Into the Fire is a weekly contribution to the creative and imaginative process of interpreting the black and white fire of Scripture. Using an adapted process of Midrash, the author includes historical/cultural information, personal anecdotes, and other theologians' ruminations on selected passages from the upcoming Sunday's lectionary readings. All are welcome to journey into the fire by using the comment sections on the blog itself, or on Facebook or Tumblr.