On Norman Rockwell and Jesus
I was gratified to read in the New York Times last week that Norman Rockwell's paintings, derided as mere magazine illustration instead of true art by many critics, are finally getting recognized by both critics and collectors as truly fine art. I love Rockwell's art; the Norman Rockwell Museum in his hometown of Stockbridge, Mass., is not only my favorite art museum but makes for a wonderful day trip from West Hartford. Yet admitting Rockwell as a favorite artist is something I've been reluctant to do in educated company. I'm a little embarrassed (just as I'm embarrassed, particularly as a writer, to say that my favorite books were written by people like Stephen King and J.K. Rowling, whose books I love because they contain great stories, not because of their overarching themes of humankind's struggle against the rugged yet supernal chaos of the wild exterior juxtaposed with the mundanity of the immediate. Or something.) Surely I should like an artist whose work is more cutting edge, whose work requires expert interpretation to understand.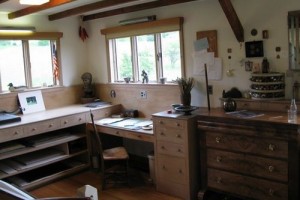 But if great works of art (and great books for that matter) help us make sense of life while also giving us the sheer pleasure of interacting with something beautiful, then I've always believed that Rockwell's art fits the bill. My favorite room at the Rockwell Museum is the central gallery with his Four Freedoms paintings, each on its own wall. These paintings were based on President Roosevelt's "Four Freedoms" speech, and used on posters to sell war bonds.
The most famous (much parodied) painting, Freedom from Want, depicts a gray-haired woman setting a Thanksgiving turkey onto a white-clothed table, with family members of many ages gathered around, smiling, talking, and looking forward to a sumptuous meal. Freedom of Worship is represented by a close-up cluster of faces, some bowed in prayer, some looking heavenward. In Freedom of Assembly, a man stands at a traditional New England town meeting, his mouth open as he speaks his mind to his neighbors, who sit attentively on either side of him. In my favorite, Freedom from Fear, young parents stand at their children's bedside, the mother tucking the blankets up to their necks, the father looking on with affection.
These paintings depict, in the most straightforward way, freedoms that make human life not merely bearable, but full and worthwhile. I like them so much because they speak so directly to my faith. Christian faith can sometimes be misconstrued as "sackcloth and ashes," as being about denial of bodily and psychological needs as we give everything to God. As I recently wrote in a piece for OnFaith, at the church Daniel and I attended in Washington, D.C.—a vibrant and wonderful place in so many ways (not least that it's where we met each other!)—there was an underlying asceticism that I struggled with. Some people we worshipped with, good and faithful people, believed that loving God meant giving up, or at least not caring much, about "creature comforts," such as comfortably furnished homes or lavishly set tables. I believe that God calls people to many different vocations and disciplines, and for some, living ascetically, in clear opposition to our consumerist culture, may indeed be their calling.
But I pushed back against the tendency of some in our church community to be suspicious of comforts or niceties of any kind, to preach detachment from material things. Such deep suspicion of "creature comforts" seemed, to me, to be denying in some way our very existence as creatures, as physical beings, created in God's image, with bodies and minds and spirits all intertwined and with very real, God-given needs, not for mere sustenance, but for companionship, beauty, and comfort of many kinds.
I love Rockwell's Four Freedoms because they show us what it means to be a creature flourishing in God's creation, for whom essential needs are met, not stingily, but abundantly, and in relationship with other people. I particularly love the Freedom from Want and Freedom from Fear paintings because they speak to such basic human needs. An overflowing table isn't gluttonous distraction; it's a celebration of smell and taste and relationship, of the blessing of meals shared with others. Freedom from want is a freedom within which we can thrive to become the people God has made us to be. A comfortable bed in a warm house, into which one tucks small children for a good night's sleep, isn't hedonistic consumerism; it's a response to our most basic human needs to be cared for and to feel safe. Freedom from fear is a freedom within which our children can grow strong and capable for whatever God has in store for them.
Where we can go wrong, particularly in a consumeristic culture like ours, is in allowing these most basic human needs, for care, comfort, and safety, to become compulsions propelled by fear rather than simple need. We can become convinced that buying and having more, more, more will somehow insulate us absolutely from all want and all fear. We can become so concerned with our own family's care, comfort, and safety that we make decisions that undermine other people's ability to share the same blessings and freedoms that we have. So we mindlessly buy things without considering how and by whom they were made. We are reluctant to give away anything we have to help someone else, in case we might need it down the line. We consider only what is best for us and our situation, not what is best for our neighbors and the common good. We close our eyes and ears and hearts to those living in fear and want in our cities and around the world, because we're just fine but can't spare a thought for others because tomorrow we might not be fine.
I've read that Norman Rockwell, raised by strict Christian parents, was not a particularly religious person. Nevertheless, I find his Four Freedoms paintings to be deeply Christian. They remind us that God created human beings with essential needs, for nourishment and safety, for self-expression and worship. And they always challenge me to think more intentionally about how I can work toward a world in which it's not only me and my children who enjoy these four freedoms, but all of God's people.
Ellen Painter Dollar is a professional writer and member of St. James's Episcopal Church. She blogs for St. James's every Monday, offering reflections on current events, family life, and parish life.