It always surprises me how frequently some Internet commenter, on my blog or someone else's, says that s/he is a Christian but doesn't go to church. It happened again this week, when a gentleman (ahem) firmly berated me and some of my readers for our misguided ways, and then mentioned that he actually doesn't go to church (a shallow social club for mutual back-patting, apparently), but gets his religion straight-up and unmediated, directly from GOD'S WORD, the Bible (which, as we know from two thousand years of peaceful Christian co-existence with one another, is such a crystal-clear document that tells us exactly what to do if we wish to follow Jesus Christ in every situation whatsoever). Church, according to this fellow, is just a distraction from how God really wants us to live.
As I've written before, I think it's hard, if not impossible, to really live the Christian faith without being part of a Christian community. Church membership and participation provides necessary food for the sometimes rough journey of faith—inspiration, accountability, and access to resources. But even more than these practical benefits of Christian community is some ineffable...something....that convinces me that the heart of the Christian life is community. And also that a Christian community is not merely a practical thing, and therefore optional for Christians who decide they can worship and pray and serve on their own. This week, as I've participated in our various farewells to Jason Roberts as he moves on to a new organist position in New York City, I've thought a bit more of what makes a Christian community different from, and more essential than, other kinds of community.
Christian communities are different from other kinds of communities because: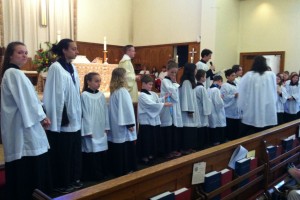 God calls our communities into being and is at their center. From Sunday's epistle (1 Peter 2:2-10), we read, "Once you were not a people, but now you are God's people." Christian communities are not simply a group of like-minded folk coming together to talk about common interests. We are not a club or a group or an organization. We are a people. When we choose to follow Jesus Christ, we and our companions on the journey go from being "not a people" (a bunch of individuals doing our individual things) to being "God's people" (a community of people called, named, and claimed by God). For me, having a common identity rooted in God makes it easier to deal with the difficulties that plague all groups of human beings, including passionate disagreement, petty bickering, tough decision making, incorporating new people, and saying goodbye to those who leave. When I recall that the person I'm disagreeing with, planning an event with, or saying goodbye to is not merely a coworker, acquaintance, or even friend, but one of God's people, my vision is refocused on the big picture. My kids and I are grieving Jason's leaving our community, as I know all of you are too. It helps to remember that we all remain God's people. Our bond with Jason goes beyond the seven years he spent here at St. James's, all those rehearsals and Sunday mornings and evensongs and choir camps. Our connection is rooted in our identity as God's people—a connection that remains even as another community gets the benefit of spending all those rehearsals and Sunday mornings and evensongs and choir camps with Jason, and we get to know our new choirmaster.
Community members engage in acts of service, not merely work. We all know how much work goes into keeping a church running. And it's not as if we go around doing that work with some kind of holy aura energizing us. Preparing the altar, weeding the gardens, compiling the newsletter, getting bids for roof repairs, writing a sermon, planning a Sunday school class, or rehearsing an anthem can be just as tiring or tedious as any other kind of work. But it can help to see our church-related work in terms of service—serving one another, serving our community, serving God. Seeing our work as service doesn't necessarily make it less tiring or tedious. But it gives us a broader perspective that shores up our spirits when the work gets hard. Many parents at St. James's tell their kids, once they get to be older elementary age, that they must choose a way to serve the church community—serve as an acolyte, join the choir, or volunteer in some other capacity. This emphasis on service makes acolyting or singing in the church choir different from the other activities that fill our kids' schedules. As I've written before, joining the choir was the thing that finally made my kids want to come to church. That's partly because they love singing and music. But it's also because choir makes the kids feel that they belong and that they are needed. I'm convinced that giving kids a job to do is a far more powerful means of encouraging church commitment than even the most fun social event. Several kids' first reaction to Jason's announcement was that they would quit the choir next year. But, despite the significance of this loss (I have no doubt that many of these kids will remember Jason as a favorite teacher and mentor for the rest of their lives), they came to understand that the choir community will go on without Jason, because the need for church music goes on, and the choir fills that need. They aren't just singing, they are serving.
As a Christian community, our identity is rooted in something (someone) outside of the community and its members, so our vision is a wide one. This, ultimately, is what has allowed me and my kids (and all of us at St. James's) to say goodbye to Jason Roberts with joy and gladness, even as many of us needed a good supply of tissues to carry us through Sunday morning's service. We understand that, as someone called to make glorious music in service to God, Jason isn't so much leaving us as he is continuing along the path that God has set out for him. We understand that his work over the last seven years has built a strong community of dedicated singers whose purpose isn't solely to work with a talented choirmaster, earn a paycheck, spend time with others who love music, or sing beautiful anthems (although the choir allows them to do all those things, and more) but to enable our congregation—God's people— to offer praise and thanksgiving.
In the Eucharist, the bread is blessed, then broken, then given. Bless, break, give. It's a familiar pattern in our common life as well. God has blessed our music ministry here at St. James's. We are feeling the pain and anxiety of the breaking, as we say goodbye to a beloved leader and friend. But we understand that the breaking happens in service to the giving. We will continue to give praise to God and service to our community, as singers and in so many other ways, as Jason does the same in his new church.
Ellen Painter Dollar is a professional writer and member of St. James's Episcopal Church. She blogs for St. James's every Monday, offering reflections on current events, family life, and parish life.