Keeping Sabbath: Quaint Tradition or Necessity?
It's easy to forget that keeping Sabbath is one of the ten commandments. The other commandments, about murder and adultery and theft, just make so much sense. Such things are so obviously bad; they interfere in such clear, stark ways with the loving communities that God calls us to build in his name. Keeping Sabbath doesn't seem quite as obviously necessary as, say, not killing one another. Failing to keep Sabbath doesn't seem as dire as failing to live up to our marriage vows.
In this nostalgic age in which backyard gardens, pickling and canning, and vintage clothing are all the rage, keeping Sabbath can seem like yet another quaint vestige of a lost way of life—open-ended Sunday afternoons spent visiting family, eating homecooked food, gathering around the fireplace or the checkerboard. How nice. Sabbath appeals to us the way that the image of a cozy front porch appeals to us. We see a photo of some beautifully decked out front porch on Houzz.com or Pinterest, and imagine gathering with family and neighbors, the kids piled onto the porch swing, adults conversing in comfy wicker chairs, homemade lemonade in hand. But in real life, who has the time to sit around on a front porch doing nothing much other than talking? Or to make that lemonade? In real life, our front porch furniture gathers dust; the porch becomes little more than a repository for umbrellas and muddy boots. Likewise, who can possibly set aside an entire day for rest? Sabbath is a lovely idea, but not very practical, is it?
But if God made keeping Sabbath one of the core commandments, it must be more than a quaint remnant of days gone by. There must be something not merely appealing but necessary about Sabbath. Why does God want us to keep Sabbath? Is it simply an imitation of God's resting on the last day of creation? Or something even more essential than that? If we determine that Sabbath is essential to our individual, spiritual, and communal lives, then how do we keep Sabbath in our suburban milieu, in which stores are open regular business hours on Sundays, and for some of us, Sunday is the only day we can get to those stores to buy the week's groceries? How do we keep Sabbath when our kids have sports practices and games, not to mention homework and piano practice to do, on Sundays? When our boss expects us to be in phone or e-mail contact every day, including Sundays?
The obstacles to keeping Sabbath are formidable. I am particularly aware of the obstacles related to living in a household with children. I once read an article encouraging readers to try keeping Sabbath, in which the author wrote something like, "Of course, children and pets still need to be fed and cared for, but beyond these minimal duties, set aside all work on Sundays." I laughed (in a sarcastic, snorty sort of way). Since when is caring for children a minimal task to be dispatched in a few minutes? Feeding a dog takes only a minute or two. Feeding a family requires considerably more than that. And, funny thing...children expect parental care to include more than just the basics of food, shelter, and clothing. Children ask lots of questions. They need lots of help. They want to do things and go places. Children require work. Lots and lots of work, even on slower paced Sundays. For me, a consummate introvert, true rest requires quiet (no pesky questions to answer or sibling fights to mediate), an absence of deadlines (including those imposed by a family expecting regular meals), and hours with a good book. Needless to say, I'm unlikely to get any of that in a household with a husband, three kids and two pets, on Sunday or any other day.
Yet I refuse to believe that Sabbath keeping is a lost cause for me. God must call us to keep Sabbath for a reason, because it is good for us as individuals, families, and communities. I want to understand why that is, and figure out how to begin and maintain a Sabbath practice that makes sense for a 21st-century suburban family.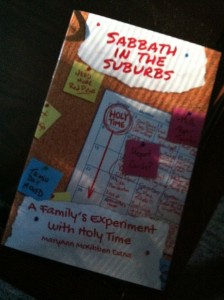 Is the idea of Sabbath compelling to you? Are you stymied by the obstacles to Sabbath keeping in your life? If so, I invite you to join me for a book study on Sunday mornings at St. James's, starting on September 29. We'll be reading and discussing Sabbath in the Suburbs: A Family's Experiment with Holy Time by MaryAnn McKibben Dana. Dana is a Presbyterian pastor and mother of three who lives in the Washington suburbs. She and her family had the same obstacles to Sabbath practice as most of us (more, I suppose, given that for a pastor, Sunday is the consummate working day). Reviewers have praised this book for being practical, funny, and non-judgmental. I'm hoping to gain both a better understanding of why God invites (commands!) us to keep Sabbath, as well as how a Sabbath practice might work for my family given the patterns and demands of modern suburban life.
And I'm hoping that some of you will join the discussion! Let's start it here. Why do you see Sabbath as an important part of the Christian life (or do you see it as important)? Have you had successes or failures in trying to keep a Sabbath practice?
(At the first book study meeting on September 29, I will have copies of Sabbath in the Suburbs, signed by the author, available for $15 each.)
Ellen Painter Dollar is a professional writer and member of St. James's Episcopal Church. She blogs for St. James's every Monday, offering reflections on current events, family life, and parish life.