Into the Fire: Who touched your mouth and made YOU a prophet?
Pentecost 14C: Jeremiah 1:4-10, Psalm 71:1-6, Hebrews 12:18-29, Luke 13:10-17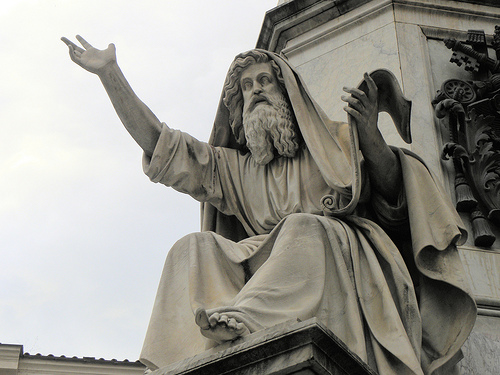 Jeremiah tells us that the word of the Lord said to him that before it formed Jeremiah in the womb, it knew, consecrated, and appointed him a prophet. Jeremiah responded saying that he was only a boy. The Lord then said to him not to say that, told him to speak whatever the Lord commanded, and advised him not to be afraid of those to whom the Lord sends him. Then the Lord touched Jeremiah's mouth and put the Lord's words inside and appointed Jeremiah "to pluck up," "pull down," "destroy," "overthrow," "build," and "plant."
The first part is clear enough: the Lord somehow spoke to Jeremiah when he was but a boy, appointing him as a prophet. The tough part to swallow is the way in which the Lord gave Jeremiah the words to say when he began his career of prophethood.
The Lord touched Jeremiah's mouth and put words inside?
This sounds like he's self-legitimatizing just a little bit. We're supposed to listen to him just because he claims that the Lord put these words in his mouth?
Now we're chewing on the issue of authority—what makes the prophets or any of scripture worth taking seriously as the Word of God?
Timothy 3:16-17 is often cited as the passage legitimizing scripture:
All Scripture is God-breathed and is useful for teaching, rebuking, correcting and training in righteousness, so that the servant of God may be thoroughly equipped for every good work.
Is Tim referring to what was scripture at the time (some form of what we know as the Hebrew Scriptures or Old Testament)?
Probably.
And what does Tim mean about scripture being "God-breathed"? This seems to be the question-at-hand in any knuckle-busting fight between "those nasty God-hating liberals" and "those stupid superstitious conservatives." And whether or not you identify with either of these groups, it is good for those who pay any attention to scripture to think for themselves about what the phrase (about scripture being "God-breathed") means.
Is it possible to look to scripture as a collection of writings written by people over thousands of years as they tried to depict their communal life and understand the nature of things while still revering scripture as something more significant than antiquated garbage? Is it possible to believe that and still believe that God (whatever God is) has something to do with scripture? Is it possible to believe that Jesus was God's ultimate revelation of God's nature to us and still be a discerning, thinking, and sane human being?
Absolutely. Absolutely. Absolutely.
And it is an absolutely necessity that followers of Jesus Christ not be followers of Holy Scripture—instead, discerning Christians read Jeremiah, the rest of the Hebrew Scriptures, the letters, and the four accounts of the Gospel and digest them.
Maybe God doesn't literally put words in our mouths as Jeremiah artfully describes, but as we experience God in our relationship with each other and with scripture, we, too, are appointed to a calling within God's ministry to creation.
The Rev. Curtis Farr is the assistant rector of St. James's Episcopal Church. He blogs for St. James's every Wednesday, offering reflections on the readings of scripture from the upcoming Sunday.
Into the Fire is a weekly contribution to the creative and imaginative process of interpreting the black and white fire of Scripture. Using an adapted process of Midrash, the author includes historical/cultural information, personal anecdotes, and other theologians' ruminations on selected passages from the upcoming Sunday's lectionary readings. All are welcome to journey into the fire by using the comment sections on the blog itself, or on Facebook or Tumblr.