For All Saints Day, which is actually on November 1st but will be celebrated at St. James's on Sunday, November 3rd, we hear a portion of Jesus' Sermon on the Plain from Luke—specifically the Beatitudes part.
"Blessed are you who are poor, for yours is the kingdom of God. Blessed are you who are hungry now, for you will be filled. Blessed are you who weep now, for you will laugh. Blessed are you when people hate you, and when they exclude you, revile you, and defame you on account of the Son of Man…"
Unlike it's close relative in Matthew, these blessings are pretty explicitly meant for people who are actually poor (not just in spirit), and hungry (not just for righteousness); they're for the underdogs. There is no mixed message as to whom Jesus is referring. The confusing bit about all of this is that poor, hungry, weeping, hated people don't seem very blessed—that is, they don't seem to show any signs of divine favor.
Even more confusing is that Jesus says quite bluntly that those who are rich, full, laughing, and popular are not blessed. Is Jesus lying? Is he (or the writer of Luke) just trying to perk up the audience hearing or reading this sermon/scripture?
Out of curiosity, I typed "#blessed" into the Twitter search bar—just to see what people see as evidence that they are blessed. Here are a few examples of the majority of what I saw: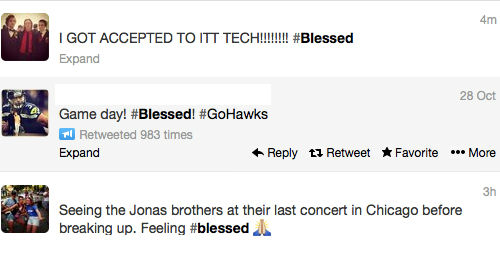 As you can see, people consider themselves to be blessed when they have success in academics, sports, and when they see the Jonas Brothers. Makes sense, right? So what is Jesus talking about in calling all of the underdogs "blessed"?
Here's a better question…the question that most of us should be asking ourselves: what if it is true? What if all of our happiness, wealth, and popularity are not blessings but curses? What if we can't wiggle out of this by identifying with or caring about the poor? What if our good fortune is built on a foundation of countless others' misfortunes?
All Saints Sunday might be a time to celebrate all of the great holy ones who have come before us—the priesthood of all believers. All Saints Sunday may be an occasion to celebrate the wonderful things many of us do for those less fortunate (there is no shortage of these people at St. James's). But given Jesus' choice words about who is and is not blessed, All Saints Sunday must cause us to step back from our good fortune and immediately take steps to figure out what the role of the overdog is in the kingdom of God—and then to do it.
All Saints Sunday might just be our chance to celebrate the hope that even the rich, full, happy, popular ones are included in God's kingdom, despite the difficulty some of us have in understanding the kind of suffering that too many people experience too often.
Take these sobering thoughts with you, and don't rush to justify or cleanse your conscience. Hold Jesus' words in a place that is surrounded by trust and faith in the One who creates, redeems, and sustains all of us. When it is time, you will know what to do with what you have discovered.
The Rev. Curtis Farr is the assistant rector of St. James's Episcopal Church. He blogs for St. James's every Wednesday, offering reflections on the readings of scripture from the upcoming Sunday. His personal blog is entitled Bowing to Mystery, on which he posts sermons, articles, pictures, videos, etc.
Into the Fire is a weekly contribution to the creative and imaginative process of interpreting the black and white fire of Scripture. Using an adapted process of Midrash, the author includes historical/cultural information, personal anecdotes, and other theologians' ruminations on selected passages from the upcoming Sunday's lectionary readings. All are welcome to journey into the fire by using the comment sections on the blog itself, or on Facebook or Tumblr.