A Pastoral Letter from the Clergy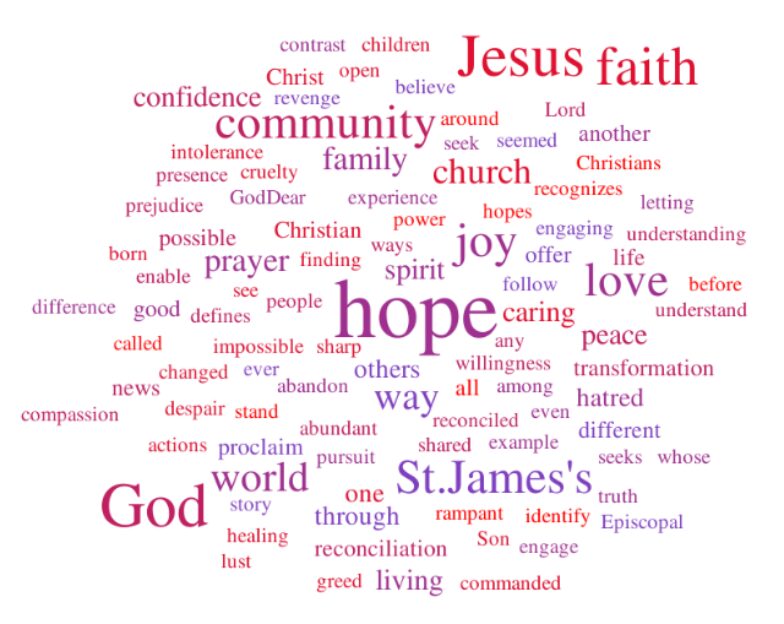 October 30, 2018
Dear Family of St. James's,
The news last week presented us with one story after another that put into clear focus the hatred, intolerance, and fear that is rampant in our nation at this time. In the last week alone, we have seen pipe bombs sent to prominent political and cultural figures, a racially motivated shooting that took place in a grocery store in Louisville, Kentucky after the shooter could not gain access to a church, and in the shooting at the Tree of Life Synagogue in Pittsburgh.
As we, the clergy at St. James's, have been holding all of these events in our prayers, it has never felt more important to speak out about the fact that as Christians, despite all that is going on this world, we still have good news to offer.The catechism of the Episcopal Church defines Christian hope as "living with confidence in newness and fullness of life."We know that light shines in the dark, that abundant life is possible for all whom God has made, and our witness to the world is to proclaim this good news in the midst of any darkness and despair.
We believe in a God who was born into a world in which violence, hatred, greed, and lust for power were as rampant as they are today, and yet lived in a way that stood in sharp contrast to the ways of the world around him.In his life on earth, Jesus showed us a new way, a way of living with compassion, of finding companionship among those who were different from him, a way of engaging with others that offered healing and reconciliation, even when that seemed impossible.Jesus loved with abandon, and we are called to do the same, letting our shared identity as beloved children of God overcome any difference.
To identify as a Christian, as people of the resurrection, is to seek to follow this example, and now more than ever the world needs clarity in our speech and actions.In our pursuit of reconciliation amidst the brokenness of this world we proclaim that another way of living in this world is possible.
This way of living is one of openness and understanding, one that recognizes the presence of God in others and seeks to engage with those who are different so that we might know and understand how they see the world.When we approach others this way, we open ourselves to transformation through an experience of God in one another, and through our own willingness to be changed.In this lies our hope for the transformation of the world.
We offer this prayer in the hopes that you would find it helpful:
O God, the Father of all, whose Son commanded us to love our enemies: Lead them and us from prejudice to truth: deliver them and us from hatred, cruelty, and revenge; and in your good time enable us all to stand reconciled before you, through Jesus Christ our Lord. Amen.