I Wish That I Had Jesse's Roo-oo-oot
Advent 2A: Isaiah 11:1-10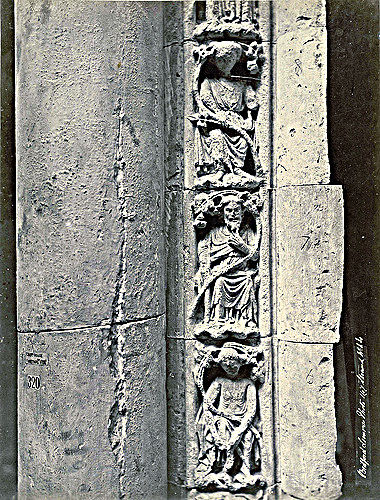 The "root of Jesse" comes up a few times in Sunday's readings. Isaiah prophecies that the messiah will be a descendent of Jesse Instead of doing midrash, this week we'll look at this concept and see what it has to offer us.
Who is this Jesse?
Jesse is King David's father…remember David? He has a bunch of psalms attributed to him. He is a pretty big deal, but that wasn't until the prophet Samuel visited Jesse's house looking for the next king of Israel. After going through seven of Jesse's other sons (a la American Idol) Samuel found the youngest, David. David did a rousing version of Kelly Clarkson's A Moment Like This, and God decided that David would be going to Los Angeles (God is Simon Cowell in this metaphor).
So David went straight to number one; he was a much-beloved king (who had plenty of faults too). Jews believe that son of David would be the messiah. Muslims believe that David was a prophet. Christians believe that the risen Jesus is the messiah who is descended from David.
If you check out the beginning of Matthew, the whole lineage from Abraham through David to Jesus is listed (we usually skip over those passages in the lectionary). And don't even get me started on Luke, who traces back Jesus' lineage to Adam (yes, that Adam) in chapter three.
Why is lineage important for Jesus?
Maybe it's not. After all, Luke traces it through Joseph—who was only his stepfather. There is no blood relation there. Both Luke and Matthew traced Jesus back through historical figures in the Hebrew Scriptures (that's the Old Testament) perhaps in order to solidify his legitimacy. Or maybe it's all totally accurate. Either way, if you believe that Jesus is God's ultimate revelation to us, then it makes sense to connect that revelation through other instances in scripture that describe the ways in which God has been present with humanity before.
Or maybe lineage is important…or at least valuable. Since Isaiah prophesied that a descendent of Jesse would be messiah who would bring about a new age of peace on earth, believers in the Way, the Truth, and the Light that is Jesus would naturally make that connection.
Paul quotes more of Isaiah in Romans regarding the Gentiles—non-Jews—who would be folded into the rule of this messiah. Paul was really into bringing Gentiles on board, so it makes sense that he would point to Jesus as the one who would unite the seemingly un-unitable. That uniting is what Isaiah prophesies (lion and lamb, leopard and kid, calf and lion and fatling, with a child to lead).
Thinking about the Jesse Tree can be a valuable thing to do during Advent, and a great way to increase one's biblical literacy. Now that you know a little bit more about its background…
Are there some crafty ways to depict the Jesse Tree?
I'm so glad you asked. Loyola Press has a wonderful Advent Resources site with information about every day of Advent, as it relates to a homemade Jesse Tree. As a child, I used to Jesse tree symbols in shrinky dink form…my mother still has them all. It can be a nice way to review the significance of some major characters in the Bible—and a great way to make the Advent season more than just pre-Christmas. Here is another site that has an easy-to-read explanation for every day of Advent.
The Rev. Curtis Farr is the assistant rector of St. James's Episcopal Church. He blogs for St. James's every Wednesday, offering reflections on the readings of scripture from the upcoming Sunday. His personal blog is entitled Bowing to Mystery, on which he posts sermons, articles, pictures, videos, etc.
Photo Credit: A. D. White Architectural Photographs Cornell University Library, Flickr