Reign of Christ C: Luke 23:33-43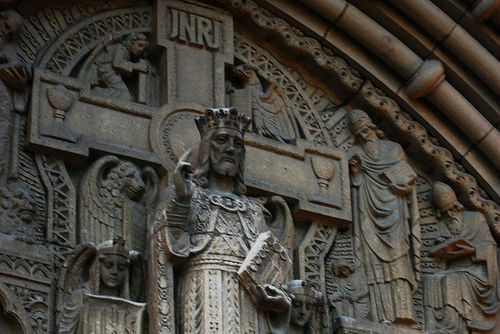 This Sunday is Reign of Christ or Christ the King Sunday, so how could we not look at the passage from Luke that puts Jesus on the cross being challenged to save himself but assuring those hanging next to him that today they will be with him in Paradise? In doing midrash we look for contradictions as entryways for deeper discovery of the message within and around the text, so this one is perfect because...you know...savior/messiah/son of God humiliated and crucified. Not to mention that the chapter and verses are 23, 33, and 43, so that's pretty cool.
Jesus is up there on the cross. As he asks his father to forgive his executioners, they divide his clothing among themselves. At least they are equitable with material goods, right?
People are watching and the leaders are scoffing and saying he should save himself if he is the Messiah of God. Soldiers mock him and tell him to save himself, and the inscription above his head reads, "This is the King of the Jews."
Fun Fact: INRI, the letters that commonly appear above Jesus on crucifixes, is an acronym of Iēsus Nazarēnus, Rēx Iūdaeōrumthe, Latin for Jesus of Nazareth, King of the Jews. "King of the Jews" is a phrase really only used by gentiles (non-Jews) in the Bible.
Even the criminals—or bandits…probably revolutionaries (a.k.a. ones who rebelled against the state) join in on the conversation, asking Jesus to be saved and pointing out that while they have been condemned justly, Jesus has done nothing wrong.
That's the scene; a lot of temptation for Jesus to flex his savior muscles and show everyone that he is the Christ. I mean, he's done it before, performing miracles, becoming transfigured, making tons of food…etc. Yet this time he resists. He's also been tempted before—tempted in the wilderness to turn stones into bread, become a powerful earthly ruler…etc. On this day, Jesus faces temptation for the last time—and once again he shows that he is victorious over temptation (and soon, death).
If Jesus had saved himself and the other men in that instance, he would have showed everyone that he was "magical," but he wouldn't have demonstrated at this crucial time that salvation is the work of God. God saves, and human beings ultimately cannot save themselves. Now hold on because this is really challenging stuff, and I don't mean to insinuate that I am describing the only way to think about it.
I want to point out one particular aspect of this as described by my favorite theologian. Please excuse his male-centric language. William Stringfellow wrote, "Men hate the Cross because it means a salvation which is unearned, undeserved, unmerited. Men would much prefer God to punish them than to forgive them because that would mean that God is dependent upon men and needed their obedience to be their God. [But] Then God would be in fact no different from an idol of race, nation, family, or whatever, and a man would feel justified either by his obedience to the idol or by the punishment of his disobedience" (Free in Obedience, 33).
His point is that the role of the Church is not to take control of the means by which anyone might obtain salvation, but to proclaim that God welcomes ALL to God's city…even the criminals whom we condemn by our notion of justice. Many things happened on and around the cross; one of them was this powerful statement about the reality of the nature of things.
This kind of topic raises more questions than it answers, and this is the nature of midrash. I have simply gone down one possible avenue toward understanding just what happened up on that cross. I encourage you to read this article by Marcus Borg about two mainstream notions of the Cross in America. Consider what it all means to you, and don't settle for easy answers.
The Rev. Curtis Farr is the assistant rector of St. James's Episcopal Church. He blogs for St. James's every Wednesday, offering reflections on the readings of scripture from the upcoming Sunday. His personal blog is entitled Bowing to Mystery, on which he posts sermons, articles, pictures, videos, etc.
This is a weekly contribution to the creative and imaginative process of interpreting the black and white fire of Scripture. Using an adapted process of Midrash, the author includes historical/cultural information, personal anecdotes, and other theologians' ruminations on selected passages from the upcoming Sunday's lectionary readings. All are welcome to journey into the fire by using the comment sections on the blog itself, or on Facebook or Tumblr.