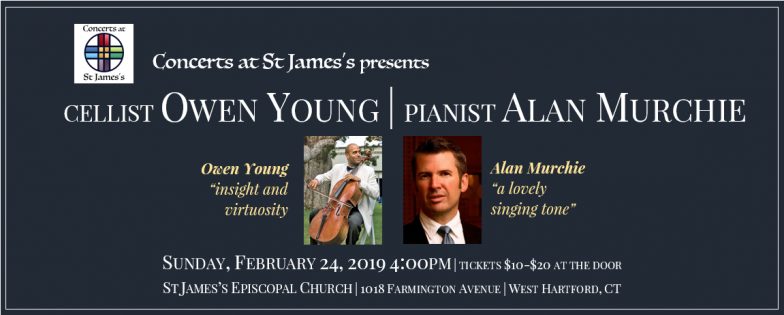 Concerts at St James's is pleased to present a recital by cellist Owen Young and pianist Alan Murchie on Sunday, February 24, 2019, at 4:00pm at St James's Episcopal Church, 1018 Farmington Avenue, West Hartford.
Cellist Owen Young, a member of the Boston Symphony Orchestra since 1991, is highly sought after as a soloist and chamber musician. Praised for "playing with insight and virtuosity," he has been a featured concerto soloist with orchestras across the country.
Alan Murchie, well-known across the region as a pianist, organist, and conductor, has been praised for playing with "relaxed mastery and a lovely singing tone."
Together, the two musicians, who have given many concerts together, will present a wide-ranging program of evocative music by Johannes Brahms, Felix Mendelssohn, Maurice Ravel, and Camille Saint-Saëns.
Tickets: $20 adults, $10 seniors and students, available at the door.